George Saunders, Live at Politics & Prose
The celebrated writer talks about his new book and what it's like to be on Colbert.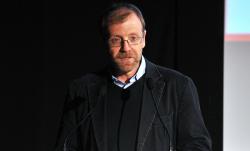 Listen to author George Saunders talk about his new short-story collection Tenth of December, his writing process, what it's like to be a guest on The Colbert Report, and much more:
Live at Politics & Prose is a new show from Slate Radio that will feature some of today's best writers reading from their new work and answering audience questions at Washington, D.C.'s famous bookstore. You can subscribe for free through the Slate Daily Podcast in iTunes or with our RSS Feed to catch all upcoming episodes. (An individual feed for the series is coming soon.)
TODAY IN SLATE
The Slatest
Ben Bradlee Dead at 93
The legendary Washington Post editor presided over the paper's Watergate coverage.