Hang Up and Listen: The Beckham Doesn't Need Stickum Edition
Slate's sports podcast on Odell Beckham Jr.'s amazing catch, painkiller usage in the NFL, and Adrian Peterson's extended suspension.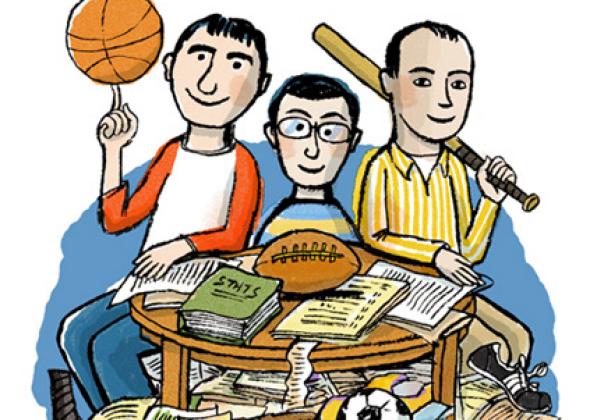 Listen to Hang Up and Listen with Stefan Fatsis, Josh Levin, and Mike Pesca by clicking the arrow on the audio player below:
In this week's episode of Slate's sports podcast Hang Up and Listen, Stefan Fatsis, Josh Levin, and Mike Pesca discuss receiver Odell Beckham Jr.'s amazing catch for the New York Giants and the aesthetics of the one-handed grab. Author and former Broncos receiver Nate Jackson also joins the show to talk about the Drug Enforcement Administration's investigation into prescription drug use in NFL locker rooms and what drug enforcement agents are likely to find there. Finally, they assess whether there's merit to Vikings running back Adrian Peterson's appeal of his indefinite suspension and ponder whether NBA commissioner Adam Silver is turning into Roger Goodell.
Here are links to some of the articles and other items mentioned on the show:
On Slate, Josh collected some of Odell Beckham Jr.'s greatest hits—including his amazing catch on Sunday.
Beckham's catch became an immediate Internet meme.
Post-human Darren Rovell tweeted that Beckham is going to be signing pictures of the catch at a Long Island mall on Monday night.
Beckham can give his tactified gloves at least some of the thanks for his catch.
Sneaker Report reviewed the stickiness of NFL gloves.
There were questions about whether Beckham was injured after the catch.
In 2011, a group of former NFL players sued the league over rampant use of the painkiller Toradol.
In 2014, another group of former NFL players, including Keith Van Horne, sued the league claiming that it encouraged overuse of a variety of painkillers.
As part of a federal investigation into painkiller use in the NFL, the DEA paid unannounced visits to several NFL locker rooms and questioned teams' medical staffs.
In New York Times op-eds, former NFL player Nate Jackson has written about using marijuana and substances like Toradol as painkillers.
Nate's book Slow Getting Up outlined the pain associated with playing in the NFL.
In an excerpt from Slow Getting Up published in Slate, Nate explained why he decided to take (and then stop taking) HGH.
Deadspin also published an adapted excerpt from Nate's book and an excerpt from the epilogue of the new paperback edition.
In 2009, Stefan wrote an op-ed in the New York Times about the need to reform NFL players' health care.
After Adrian Peterson accepted a plea agreement on charges that he abused his son, the NFL suspended him for at least the rest of the season, saying he had shown "no meaningful remorse."
In a long interview with USA Today, Peterson talked about his relationship with his son and playing in the NFL again.
The NFL Players Association filed an appeal of Peterson's suspension.
Ray Rice is also appealing the indefinite suspension he received after video surfaced of him punching his fiancée in an elevator.
National Basketball Players Association head Michele Roberts said the league was trying to "outmuscle" the NFL with the Taylor suspension.
In July, the blog Gothic Ginobili made the case that the NBA is worse than the NFL when it comes to punishing criminal behavior.
NFLPA head DeMaurice Smith says the NFL is making everything up as it goes along.
In the New York Times, Juliet Macur wrote about the NFLPA being forced to defend bad actors against an ever-shifting system.
Sports Illustrated's Michael McCann ran down the remaining legal issues in Peterson's case and noted that the NFLPA gave the NFL the powers the union is complaining about now.
On Deadspin, Barry Petchesky wrote that the NFL is using the Peterson suspension as a public relations opportunity.
Drew Magary thinks the NFL should reinstate both Rice and Peterson and let individual teams decide if they want to sign players.
Zelmo Beaty was inducted into the College Basketball Hall of Fame alongside Shaquille O'Neal, who, as HUAL fans know, once admitted he didn't know who Beaty was.
On this week's Slate Plus bonus segment, Stefan Fatsis, Josh Levin, and Mike Pesca provide advice for keeping up with all of this year's Thanksgiving Day football. Slate Plus members get an ad-free version of this podcast with bonus segments. Visit slate.com/hangupplus and try it free for two weeks.
Podcast production by Joel Meyer and edit by Alexis Diao. Links compiled by Chris Laskowski.