Hang Up and Listen: The These Are My Bosses Edition
Slate's sports podcast on ESPN suspending Bill Simmons, the Kansas City Royals making the playoffs, and Brady Hoke mishandling a possible concussion.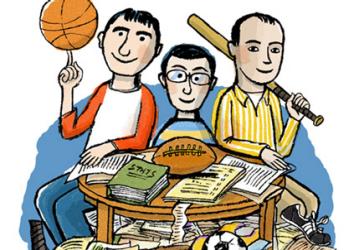 Listen to Hang Up and Listen with Stefan Fatsis, Josh Levin, and Mike Pesca by clicking the arrow on the audio player below:
In this week's episode of Slate's sports podcast Hang Up and Listen, Stefan Fatsis, Josh Levin, and Mike Pesca discuss ESPN's decision to suspend Bill Simmons, how Simmons defines himself, and the symbiotic relationship between the writer and the network. They also talk to Kansas City Royals fan Rany Jazayerli about the team's long playoff drought, the frustration of rooting for a poorly managed team, and whether the one-game wild card playoff really counts as a full postseason experience. Finally they are joined by Slate's Ben Mathis-Lilley to discuss the turmoil surrounding the Michigan football program.
Here are links to some of the articles and other items mentioned on the show:
On this week's Slate Plus bonus segment, Stefan Fatsis, Josh Levin, and Mike Pesca discuss the U.S. loss and exuberant European fist-pumping at the Ryder Cup. Slate Plus members get an ad-free version of this podcast with bonus segments. Visit slate.com/hangupplus and try it free for two weeks.
Podcast production and edit by Mike Vuolo. Links compiled by Chris Laskowski.