Hang Up and Listen: The Peg You in the Head With Basketballs Edition
Slate's sports podcast on the Final Four, Brittney Griner and the NBA, and fired Rutgers coach Mike Rice. Plus: an interview with marathon legend Bill Rodgers.
Listen to Hang Up and Listen with Stefan Fatsis, Josh Levin, and Mike Pesca by clicking the arrow on the audio player below:
In this week's episode of Slate's sports podcast Hang Up and Listen, Stefan Fatsis, Josh Levin, and Mike Pesca discuss the men's and women's Final Four as well as Mark Cuban's declaration that he might draft Brittney Griner. They also talk about the firing of cursing, shoving, basketball-tossing Rutgers basketball coach Mike Rice. Finally, they're joined by distance-running legend Bill Rodgers, who's the subject of a pair of new books, Cameron Stracher's Kings of the Road and the autobiography Marathon Man.
Here are links to some of the articles and other items mentioned on the show: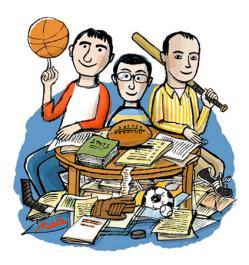 Mike's Captain Kidd: The Michigan Wolverines' rivals have missed out on a huge number of taunting opportunities. Skunk bear!
Podcast production and edit by Mike Vuolo. Our intern is Eric Goldwein.