Pounding the Glass Ceiling
Ann Meyers Drysdale explains what it was like to try out for the NBA in the 1970s.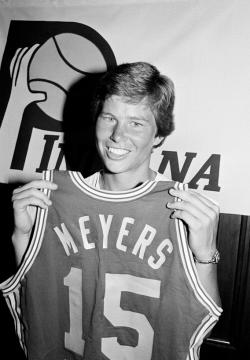 In the days since Mavericks owner Mark Cuban mused about drafting Brittney Griner, journalists and basketball types have called the Baylor center's NBA dreams an inspiration, a sham, a great opportunity, and a false promise that will set women up to fail. Female athletes have heard this all before. Nancy Lieberman played with a couple of NBA summer league teams in the early 1980s. And in 1979, Ann Meyers (who now goes by Ann Meyers Drysdale) had a three-day tryout with the Indiana Pacers. Looking back at the coverage of her short-lived NBA career, it's striking how little the conversation has changed. Here's how the Today Show put it, just short of 35 years ago: "Ann Meyers' NBA Bid: Hype, Hope, or Hoax?"
As Meyers Drysdale saw it, her NBA tryout was not about hype, and it wasn't a hoax. She had grown up playing against boys, in particular her five brothers. (Dave Meyers, who's two years older than Ann, preceded her at UCLA and was the No. 2 pick in the 1975 NBA draft.) Prior to her senior year in high school, Meyers Drysdale spent the summer playing on the boys' team, thinking that would continue during the school year. "I had a lot of people talk me out of it," she remembers in an interview. They told her that she was a teenager, that she was emotional, that her body was changing. "So I sat and listened to what people told me—you can't do this, you shouldn't do this, you won't be able to do this."

Despite a standout career at UCLA, which included leading the Bruins to the 1978 national title, Meyers Drysdale still regretted her high-school decision. When Pacers owner Sam Nassi came to her with a contract offer, she saw it as a chance to correct that mistake. "Five years before, I had a chance to play with the boys and I didn't. Now somebody's giving me another chance. Why should I turn this down?"
Meyers Drysdale did in fact have several good reasons to turn it down. For one, she'd been the top pick in the inaugural draft of the Women's Professional Basketball League. For another, in those days of absurdly punitive amateurism rules, inking an NBA contract would mean signing away her opportunity to play in the Olympics. (Jimmy Carter ultimately made that a moot point when he decreed that the United States would boycott the 1980 Summer Games.) There were also plenty of people in the Pacers organization who didn't want her around. As she recounts in the first chapter of her autobiography, You Let Some Girl Beat You?, Indiana coach Slick Leonard flew out to California to try to persuade her not to show up for practice. But this time, Meyers Drysdale would not relent.

Once she got to Indiana, the 5-foot-9 guard went up against the Pacers' top rookies and other NBA wannabes. "Physically, emotionally, mentally, it was the best I was ever prepared to play the game of basketball," she says. The other players on the court were less prepared to play against her. In her autobiography, Meyers Drysdale recalls facing John Kuester (later the coach of the Detroit Pistons) in a one-on-one drill. "[We] collided and I went down. I was fine, but John's natural instinct was to worry that he'd hurt me. He bent down next to me. 'Are you OK, Annie?' " You can watch a clip of the play at the 1:18 mark in the video below. (She was fine.)
Thinking back on the tryout on Friday, Meyers Drysdale remembers the compliment she received from assistant coach Jack McCloskey: "Fundamentally, she's better than half the guys out there." But that wasn't enough for Slick Leonard to extend her an invitation to stick with the team.
Even so, Meyers Drysdale says, "the decision to make that tryout was the best decision of my life." Her short tenure with the Pacers opened the door for her to become a broadcaster and earned her an invitation to the Superstars competition, where she met her future husband Don Drysdale. (The Hall of Fame pitcher died of a heart attack in 1993.)

Meyers Drysdale, who's now a vice president of the WNBA's Phoenix Mercury and a broadcaster for the NBA's Phoenix Suns, says she believes there could be a female NBA player in her lifetime—at least a credible player at the end of the bench, someone who could come in and play a few minutes a night. If a woman does make it, she believes it will likely be a guard, someone in the mold of Diana Taurasi or Maya Moore who can handle the ball and shoot from the outside.
Most of all, she says, that person will have to be able to shake off all the horrible things that will be said about her. "I shut the media out when I had my tryout," she says. "I spoke to people that were positive in my life. I didn't get caught up in what everyone else was saying, because I knew that would bring me down and make me lose confidence in myself." At this stage, Brittney Griner seems to have that last part down. While acknowledging that her future's likely in the WNBA, Griner told reporters over the weekend that she's "not going to back down from a challenge."
"If I get a shot, why turn down something like that?" she said, sounding a lot like Ann Meyers Drysdale did back in the 1970s. "That's big, even if you don't make it. Hey, at least you tried. Somebody pushed the envelope."