Hang Up and Listen, the Early Winter Classic Edition
Listen to Slate's podcast about the week in sports.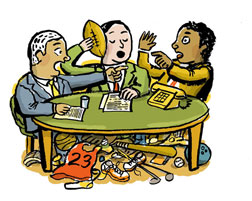 Thanks to our listeners, we now have more than 1,000 fans on our Facebook page, which means we were able to claim a new, easier-to-remember URL: www.facebook.com/hangupandlisten. Become a fan if you haven't already. Leave us a note and see what other listeners have to say about the latest podcast.
In this week's episode of Slate's sports podcast Hang Up and Listen, Stefan Fatsis, Mike Pesca, and special guest Drew Magary discuss the demise of the workhorse running back in the NFL, competitive balance in the NBA, and the later-than-ever start of the World Series.
Here are links to some of the articles and other items mentioned on the show: