Hang Up and Listen, the Early Winter Classic Edition
Listen to Slate's podcast about the week in sports.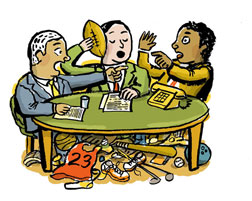 In this week's episode of Slate's sports podcast, Hang Up and Listen, Stefan Fatsis, Josh Levin, and Mike Pesca discuss Brett Favre taking on the Packers, the start of the baseball playoffs, and whether table tennis will be the next big television sport.
Here are links to some of the articles and other items mentioned on the show:
Hang Up and Listen's weekly duck snorts:
Posted on Oct. 5 by Abdullah Rufus at 5:45 p.m.