Hang Up and Listen, the Early Winter Classic Edition
Listen to Slate's podcast about the week in sports.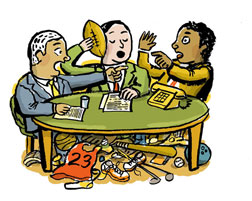 In this week's episode of Slate's sports podcast Hang Up and Listen, Stefan Fatsis, Josh Levin, and Mike Pesca discuss the baseball playoffs, the United States soccer team qualifying for the 2010 World Cup, NFL health care and Malcolm Gladwell's article linking the NFL and dogfighting, and the state of the WNBA.
Posted on Oct. 12 by Abdullah Rufus at 5:45 p.m.
Listen to "Hang Up and Listen" with Stefan Fatsis, Josh Levin, and Mike Pesca by clicking the arrow on the audio player below: