Demons and Spirits
Between family and Ferguson we'll all need a strong drink. Here are two to get you started.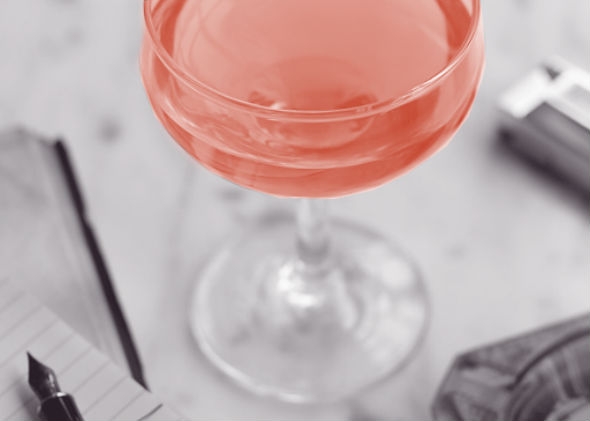 Listen to Episode 144 of Slate's The Gist:
Today on The Gist, Mike begins the show with his Spiel about the Ferguson decision. We'll discuss what's unusual (and totally expected) about the grand jury proceedings with Jami Floyd from Al Jazeera America and David Feige, author of Indefensible. To end the show, we head out to our neighborhood spot Hudson Clearwater for a drink with Peter Thomas Fornatale and Chris Wertz.
Join the discussion of this episode on Facebook.
WHISKEY FACILE
2 oz Widow Jane Straight Bourbon Whiskey
1 1/4 oz Cardamaro
2 dashes bitters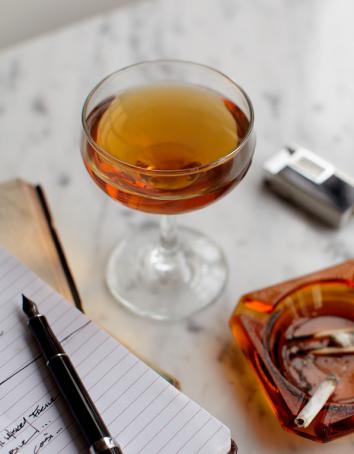 Build in a shaker, give a quick stir, and strain into a cocktail glass, or just build over ice and enjoy.
Fred Buscaglione, the inimitable capo of Italian jazz in the 1950s, became enamored with American culture as a child growing up in Italy in the 1940s—so much so that for his stage persona, he adopted a character which was said to be a combination of Mickey Spillane mobsters and Clark Gable.
On stage and in film, he aped his favorite subjects, the hardened American gangsters of Prohibition, brutal in their pursuit of infamy but hopelessly at the mercy of women and whiskey. His stage character "Freddy" said he preferred an "easy whiskey" to the ubiquitous mineral water preferred by so many of his countrymen, and added that he drank nitroglycerin for breakfast!
Whiskey Facile is not only an ode to Buscaglione, but also a nod to the preferred drink of seasoned bartenders. At home and off duty, a bartender will forgo the shaker and ceremony of cocktail preparation, to simply "build" a drink out of a good whiskey and a soft accent like a splash of vermouth or amaro, or a twist of a lemon peel, or a dash of bitters. The accent will depend on mood, or perhaps how to properly follow a meal, or, more simply, on what is available. It's whiskey-easy, whiskey facile.
Danny Kent, bar manager at Locanda Vini e Olii in Clinton Hill, developed this cocktail using a Brooklyn whiskey, an amaro from Buscaglione's native
Piedmont region of Italy, and the technique of an off-duty bartender. He suggests: "I think in Freddy's jazzy vein, one should feel free to take this drink and improvise loosely—but whatever you do, never forget to take it easy."
CRANBERRY SHRUB
For four to six drinks:
8 oz fresh cranberries
8 oz water
6 oz sugar (a mix of brown and white)
1-inch piece of ginger, chopped or minced
1 cinnamon stick (divided)
4-8 oz apple cider vinegar (see instructions below)
1½ ounce craft whiskey (We used Breuckelen Distilling's Rye and Corn Whiskey.)
In a saucepan, combine cranberries, water, sugar, cinnamon stick, and ginger over medium heat. Cook for just about five minutes until cranberries start to break apart but do not thicken.
Strain this cranberry mixture and reserve the liquid.
Now it's time to add the vinegar. This is very much of a "to taste" process. You want the final product to be tart—like lemonade—not mouth-puckering, like lemon juice. The best move here is to start with 4 oz, mix, and taste. We usually end up right around 5 oz per 8 oz of fruit.
When you're happy with the taste of the shrub, place 1½ ounces of whiskey in a rocks glass and top with 2 ounces of the shrub, and top with 1-2 ounces of club soda or seltzer.
Garnish with a lemon twist.
For us, two things make this a perfect fall-winter party drink.
For one thing, the combination of ginger and cinnamon will treat your guests to an amazing olfactory experience the minute they walk into your house—there's a reason real-estate agents have you bake cookies before you host an open house!
The second thing is what happens in the glass—you end up with a perfect seasonal cocktail—familiar late-year flavors packed with a gentle whiskey punch.