The Bazelon Family Gabfest
Listen to Slate's show about Obama's Egypt conundrum and Eric Holder's sentencing reform gesture. Plus, an economist and a biologist make The Bet about an environmental doomsday.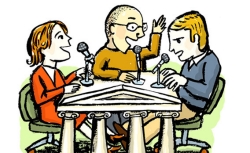 Become a fan of the Political Gabfest on Facebook. We post to the Facebook page throughout the week, so keep the conversation going by joining us there. Or follow us @SlateGabfest!
To listen to the discussion, use the player below:
Live Dear Prudence show in Washington, D.C., on Sept. 11 at 7 p.m. Join David as he questions Slate's Dear Prudence columnist Emily Yoffe about her most memorable letters. Tickets.
Live DoubleX Gabfest in Washington, D.C., on Sept. 18 at 7 p.m. Tickets.
As the fighting in Egypt grows more violent, David, Emily, and Paul discuss President Obama's constrained foreign-policy choices. Then they discuss the significance of Attorney General Eric Holder's gesture toward sentencing reform. Finally, they discuss Paul's new book about what today's environmental movement might learn from a famous bet about resource scarcity.
Here are some of the links and references mentioned during this week's show:
Topic ideas for next week? You can tweet suggestions, links, and questions to @SlateGabfest. The email address for the Political Gabfest is gabfest@slate.com. (Email may be quoted by name unless the writer stipulates otherwise.)
Podcast production by Andy Bowers. Links compiled by Jeff Friedrich.