The "Come Back Eliot, All Is Forgiven" Gabfest
Listen to Slate's show about the Egyptian coup Obama can't call a coup. Plus, Eliot Spitzer's would-be redemption, and what adults might learn at summer camp.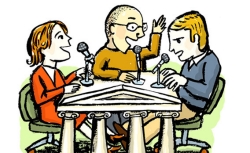 Become a fan of the Political Gabfest on Facebook. We post to the Facebook page throughout the week, so keep the conversation going by joining us there. Or follow us @SlateGabfest!
To listen to the discussion, use the player below:
In a live recording of the Slate Political Gabfest at the Northwestern University School of Law in Chicago, Emily Bazelon, John Dickerson, and David Plotz discuss the turmoil in Egypt, and the challenges it poses for the Obama administration. They also discuss Eliot Spitzer's decision to run for office and whether the former New York governor (and Slate contributor) deserves forgiveness. Plus, what adults might learn at summer camp. During the cocktail chatter portion of the show, the Gabfesters are joined by special guest Peter Sagal, host of NPR's Wait Wait … Don't Tell Me.
Here are some of the links and references mentioned during this week's show:
Was a high wall there that tried to stop me
A sign was painted said: Private Property,
But on the back side it didn't say nothing —
God blessed America for me.
[This land was made for you and me.]
The Gabfest audience sang a variation. Peter recommends Joe Klein's Woody Guthrie: A Life, saying it describes how variations of the song reflect different political messages.
During the Q-and-A period, an audience member asked for summer reading recommendations. Here's what David, Emily, John, and Peter are reading:
Topic ideas for next week? You can tweet suggestions, links, and questions to @SlateGabfest. The email address for the Political Gabfest is gabfest@slate.com. (Email may be quoted by name unless the writer stipulates otherwise.)
Podcast production by Mike Vuolo. Links compiled by Jeff Friedrich.