The Barack Obama Is Richard Nixon Gabfest
Listen to Slate's show about Obama's scandal trifecta. Plus, the murder conviction of abortion doctor Kermit Gosnell.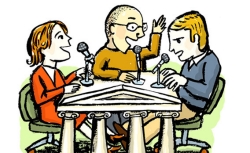 Become a fan of the Political Gabfest on Facebook. We post to the Facebook page throughout the week, so keep the conversation going by joining us there. Or follow us @SlateGabfest!
To listen to the discussion, use the player below:
On this week's Slate Political Gabfest, Emily Bazelon, John Dickerson, and David Plotz discuss President Obama's season of scandals and his prospects for second-term governing. Then, they talk in more detail about the Justice Department's snooping on AP journalists, and about the conviction of abortion doctor Kermit Gosnell in Philadelphia.
Here are some of the links and references mentioned during this week's show:
Topic ideas for next week? You can tweet suggestions, links, and questions to @SlateGabfest. The email address for the Political Gabfest is gabfest@slate.com. (Email may be quoted by name unless the writer stipulates otherwise.)
Podcast production by Mike Vuolo. Links compiled by Jeff Friedrich.