The Guy Named Plotz Makes Jokes About a Guy Named Weiner Gabfest
Listen to Slate's Political Gabfest on a Senate gun bill deal, Obama's budget proposal, and Anthony Weiner's strategic re-entry into public life.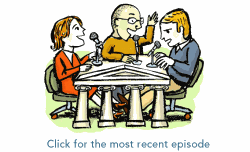 Become a fan of the Political Gabfest on Facebook. We post to the Facebook page throughout the week, so keep the conversation going by joining us there. Or follow us @SlateGabfest!
To listen to the discussion, use the player below:
On this week's Slate Political Gabfest, Emily Bazelon, John Dickerson, and David Plotz discuss the Senate deal on background checks that could help a gun bill move forward, President Obama's budget proposal, and Anthony Weiner's strategic steps toward political rehabilitation and a possible run for New York City mayor.
Here are some of the links and references mentioned during this week's show:
Topic ideas for next week? You can tweet suggestions, links, and questions to @SlateGabfest. The email address for the Political Gabfest is gabfest@slate.com. (Email may be quoted by name unless the writer stipulates otherwise.)
Podcast production by Mike Vuolo. Links compiled by Jeff Friedrich.