I'll Be His Weiner Wife
If you don't want to forgive Anthony Weiner, do it for his wife.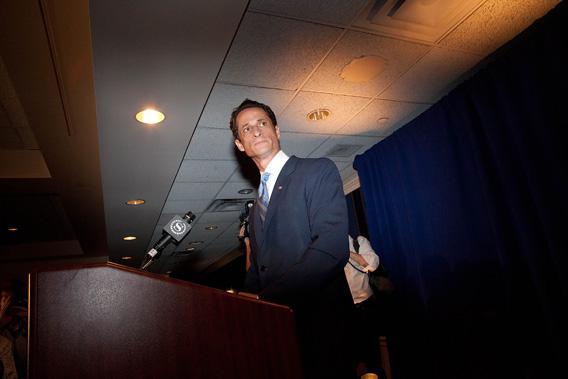 You can also listen to William Saletan read this piece.
Former Rep. Anthony Weiner, preparing to run for mayor of New York, has come clean to the New York Times Magazine about the extramarital sexting—tweets, emails, Facebook messages, phone calls—that derailed his career. The article says of Weiner and his wife, Huma Abedin: "While there certainly was a lot of strategic thinking in deciding to tell their story six months before the mayoral primary, there didn't seem to be a lot of strategy to how they told it."
That's the genius of Weiner's strategy: It doesn't look like a strategy. It's so deeply embedded in the narrative that you can't see it. Weiner has made this a story not about himself, but about his wife and their future together. You have to forgive him because she has forgiven him, and if you hold a grudge against him, she's the one you're really punishing.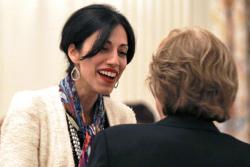 According to the article, Weiner and Abedin agreed to appear in People last year "entirely for the purpose of getting a picture of [their infant son] published so it would no longer have value and the paparazzi would stop camping out on their corner." That seems to be one of their objectives in this article, too: to spill enough detail about the scandal that people will lose interest. And they're succeeding. After reading the piece, one of my Slate colleagues pronounced himself totally bored. Even the author, Jonathan Van Meter, says he stopped an interview after two hours of listening to Weiner "unburden himself." Van Meter writes that it felt "like a therapy session."
Weiner offers some predictable excuses: He just wanted attention and admiration, he never met the women, and his exchanges with them were just something "technology made possible." "It's not like I would have gone out cruising bars," he insists. He also dilutes the scandal by showing you the rest of who he is and how he lives: taking his son to the park, "picking up his wife's dry cleaning and doing the grocery shopping." His mom appears, too, "helping out with the baby" while his wife is busy at her high-powered job. Plus you get the whole courtship narrative—he pursued Abedin even after "she ditched me"—and the painful backstory of his divorced parents, his dead brother, and a family in which the men don't hug and "we don't talk about our feelings." That's what led to his online behavior: "This fix of having an emotional back and forth on the Internet at 2 a.m. seemed, to me, like getting something that I didn't really have a lot of."
But what makes the article effective, as a step toward political rehabilitation, is that it isn't just about Weiner. It's about him and Abedin together. They're together in the cover photo, sobered but still in love. The words "we" and "they" appear a combined 76 times. The piece quotes Jon Stewart telling Weiner privately, "You have your own responsibility in this, but it's not to us." Citizens can't judge a politician's sexual behavior. Only his wife can. And Abedin has rendered that judgment: "I understand and I forgive." According to the article, the couple is spending more time together than ever. "If there's anyone … able to sustain the onslaught that came from without, it's these two," says Weiner's brother. The husband and wife are victims together. Call off the onslaught. Forgive and forget.
If you won't forget, the person you're hurting is Abedin. She "did nothing wrong," Weiner pleads, yet she "has people staring at her now on the subway because of what an idiot her husband was." Abedin won't detail her "personal conversations" with her boss, Hillary Clinton, but she thinks Hillary "would be O.K. with me saying this … at the end of the day, at the very least, every woman should have the ability and the confidence and the choice to make whatever decisions she wants to make that are right for her and not be judged by it." Not be judged? I thought we were talking about judging the husband. Now we're talking about judging the wife.
In Weiner's telling, the revival of his political career is really Abedin's project. When he finally confessed to her about his sexting, he recalls, "She immediately said, 'Well you've got to stop lying to everyone else too.' And basically we drove back to the city, and she said: 'You've just got to tell everyone the truth.' " She opposed his decision to resign: "Huma didn't really want me to, frankly." She wanted to tell their story to the Times Magazine: "We are ready to clear the decks on this thing," he says. And she's the one encouraging him to get in the mayoral race. As the article's closing line puts it: "Huma, he said, is starting to think he should run."
There are good reasons to forgive Weiner. As far as we know, his cheating, coarse and thoughtless as it was, never became physical. He stayed with his wife and repaired the marriage. He's trying to be a good father. And while marital behavior does reflect character, there's lots of evidence that you can be a lousy husband and a fine public servant. But if you want to regain our trust, congressman, stand up and be a man. Stop leaning on your wife.
William Saletan's latest short takes on the news, via Twitter: