The Screw You, Let's Have Lunch Gabfest
Listen to Slate's show about Obama's renewed efforts to schmooze the GOP, Rand Paul's filibuster, and the evolving Sen. Menendez prostitution scandal.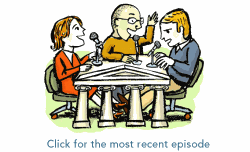 Become a fan of the Political Gabfest on Facebook. We post to the Facebook page throughout the week, so keep the conversation going by joining us there. Or follow us @SlateGabfest!
To listen to the discussion, use the player below:
Live Simulcast at N.Y. Gabfest—New York, Mar. 21, at 92Y. Tickets for the main stage are sold out, but you can still attend a live simulcast at 92Y. Participate in the audience Q and A; meet John, Emily, and David; and attend Emily's book signing. Tickets and additional information available here.
This week's Audible recommendation? Check out Slate's new "Live at Politics & Prose" podcast, which features talks from today's best writers at Washington D.C.'s famous bookstore. Before you listen to the podcast, visit Audible and listen to a recently featured author, like Lawrence Wright or George Saunders. Try Audible free for 30 days and get a free audiobook by visiting AudiblePodcast.com/Gabfest.
On this week's Slate Political Gabfest, John Dickerson, David Plotz, and special guest Dave Weigel discuss President Obama's renewed efforts to schmooze GOP lawmakers, the Rand Paul filibuster on U.S. drone policy, and the Sen. Robert Menendez prostitution scandal.
Here are some of the links and references mentioned during this week's show:
Topic ideas for next week? You can tweet suggestions, links, and questions to @SlateGabfest. The email address for the Political Gabfest is gabfest@slate.com. (Email may be quoted by name unless the writer stipulates otherwise.)
Podcast production by Mike Vuolo. Links compiled by Jeff Friedrich. Executive Producer: Andy Bowers.