The Will You Sign My Pledge Gabfest
Listen to Slate's show about the immutable politics of tax pledges, the Israel-Gaza conflict, and Steven Spielberg's Lincoln.
To listen to the discussion, use the player below: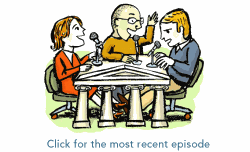 On this week's Slate Political Gabfest, Emily Bazelon, John Dickerson and David Plotz discuss the politics of raising taxes when many Republicans have signed pledges that they never will. They'll also discuss the Israel-Gaza conflict, and the political lessons of Steven Spielberg's Lincoln.
Here are some of the links and references mentioned during this week's show:
Topic ideas for next week? You can tweet suggestions, links, and questions to @SlateGabfest
The email address for the Political Gabfest is gabfest@slate.com. (Email may be quoted by name unless the writer stipulates otherwise.)
Podcast production by Michael Vuolo. Links compiled by Jeff Friedrich.