The 2011 Conundrum Gabfest
Listen to Slate's show about the conundrums that stumped us this year.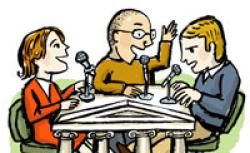 Become a fan of the Political Gabfest on Facebook. We post to the Facebook page throughout the week, so keep the conversation going by joining us there.
For listening to the Gabfest on the go, try Stitcher Smart Radio, a free app for your iPhone, Android phone, or BlackBerry that allows you to stream any podcast right over your cell connection. Download it at www.stitcher.com/politicalgab, and use the promo code SLATE.
On this week's Slate Political Gabfest, David Plotz, John Dickerson, and Emily Bazelon wrap up 2011 by puzzling over political, moral, ethical, psychological, and familial questions that stump them in everyday life.
Here's a list of the conundrums discussed:
1. When someone you care about is getting serious (like engaged) to someone you think is wrong for them, is it ever OK to speak up? What about other big decisions, such as buying a house?
2. Why do men talk and think about sports so much? How can that be changed? How can I change that in myself? – David
3. Considering the vast amount of digital records our society is leaving behind us, what questions about us will future historians possibly find to argue about? If even a minute fraction of the emails, photos, videos, blogs, advertisements, databases, etc., are still accessible and available in 500 years, it seems to me that no facet of our life will need to be guessed at. The historian Barbara Tuchman, in a forward to one of her great books, The Proud Tower, wrote something to the effect that she would have liked to have included more details on the life of a common person, such as a blacksmith or shopkeeper, if she could only have found them in the historical record. In my opinion, future historians will have no such trouble finding a common person. So what will they have trouble finding? – Matthew Kaplan
4. Is it better to vote for a candidate whose policies one agrees with but who is generally considered un-electable (i.e., Ross Perot or Ralph Nader back in the day, or an independent Ron Paul in 2012), or is it simply more pragmatic to throw one's vote to the lesser of two (more-electable) evils? – Robert Garni
5. Does the (totally reasonable) editorial choice not to discuss politically impossible policy have the long term effect of drifting the conversation toward the more intransigent political party? Not discussing the actual effects of implementing single-payer health care, or the flat tax, or drug legalization gives the impression that they are both pragmatically unworkable as well as politically. But clearly they aren't worth discussing on the merits because they cannot, in the short term, become policy. So should we discuss the politically impossible? And if we don't are we inadvertently moving the tone of the conversation toward those who are making these policies impossible? – Josiah Van Vliet
6. How do you figure out the proper balance of what to sacrifice for the good of your children? To whit: My children would be much happier if Hanna and I never went out in the evening. But not going out occasionally makes me crazy. – David
7. If you listen to an audiobook, did you "read" the book? – Tedd Shapiro, Kim LaFontana, and Glenn Ricci
8. Plotz or Dickerson: Who would/could go longest if uninterrupted? – Tony Rutt
9. Would you rather be a tree or a fish?
For this week's cocktail chatter, John, Emily, and David picked their favorite moments of 2011.
David's moment of the year was David Blight's iTunes class on the Civil War and the Reconstruction. His second moment was going to London to watch the Champions' League Final between Manchester United and Barcelona.
John's moment was watching his son pitch for the first time and strike out all three batters that he faced.
Emily's moment was watching all of Breaking Bad this year. Her other moment was the end of Don't Ask, Don't Tell.
The e-mail address for the Political Gabfest is gabfest@slate.com. (E-mail may be quoted by name unless the writer stipulates otherwise.)
Podcast production by Andrew Bouvé and Dale Willman. Links compiled by Aviva Shen.