The "Why Is David Hiding Under the Table?" Gabfest
Listen to Slate's show about Herman Cain's scandal, the Supreme Court on eyewitness testimony, and Obama's "Jewish problem."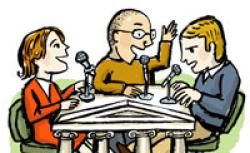 Become a fan of the Political Gabfest on Facebook. We post to the Facebook page throughout the week, so keep the conversation going by joining us there.
On this week's Slate Political Gabfest, Emily Bazelon, John Dickerson, and David Plotz discuss Herman Cain's sexual harassment scandal, a Supreme Court case on eyewitness testimony, and President Obama's relationship with the Jews.
Here are some of the links and references mentioned during this week's show:
The Politico piece that broke the story of sexual harassment charges against Herman Cain.
A Politico piece about Iowa's apparent indifference to the Cain scandal.
John's Slate piece comparing Herman Cain's scandal to Clarence Thomas' "high-tech lynching."
John's Slate piece on the Cain campaign's other problems.
Dahlia Lithwick's Slate piece on the Supreme Court's reluctance to rule on eyewitness testimony in Perry v. New Hampshire.
A New York Times article on the New Jersey Supreme Court's study on the unreliability of eyewitness identifications.
Nate Silver's New York Times Magazine piece discussing Obama's "Jewish problem" among other issues.
John chatters about an Atlantic piece on Jay Carney's misattribution of the quote "The Lord helps those who help themselves" to the Bible.
Emily chatters about a Supreme Court case examining bad plea bargains.
David chatters about Chad Harbach's novel The Art of Fielding.
The e-mail address for the Political Gabfest is gabfest@slate.com. (E-mail may be quoted by name unless the writer stipulates otherwise.)
Podcast production by Andrew Bouve and Dale Willman. Links compiled by Aviva Shen.