Stranger Than Fiction, Robert J. Sawyer Edition
In the Future Tense podcast, the sci-fi author explains why he avoids "robots run amok" stories.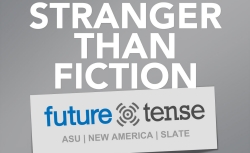 Listen to Stranger Than Fiction No. 6 with Tim Wu and Robert J. Sawyer by clicking the arrow on the audio player below:
Welcome to Stranger Than Fiction, a new six-episode podcast from Slate, the New America Foundation, and Arizona State University. Each week, Tim Wu—a Future Tense fellow at New America, the author of The Master Switch, and a professor at Columbia Law School—talks to a contemporary science fiction writer about whether we're living in the future.
TODAY IN SLATE
Foreigners
More Than Scottish Pride
Scotland's referendum isn't about nationalism. It's about a system that failed, and a new generation looking to take a chance on itself.