Stranger Than Fiction, Kim Stanley Robinson Edition
In the Future Tense podcast, the 2312 author explains why a voyage to Mars is a good "23rd-century project."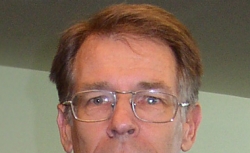 Listen to Stranger Than Fiction No. 5 with Tim Wu and Kim Stanley Robinson by clicking the arrow on the audio player below:
Welcome to Stranger Than Fiction, a new six-episode podcast from Slate, the New America Foundation, and Arizona State University. Each week, Tim Wu—a Future Tense fellow at New America, the author of The Master Switch, and a professor at Columbia Law School—talks to a contemporary science fiction writer about whether we're living in the future.
"is his boldest trip into all of the marvelous SF genres—ethnography, future shock, screed against capitalism, road to earth—and all of the ways to thrill and be thrilled. It's a future history that's so secure and comprehensive that it reads as an account of the past—a trick of craft that belongs almost exclusively to the supreme SF task force of Le Guin and Margaret Atwood."
Advertisement

In the episode, Robinson talks to Tim about the politics of science fiction, how robots have historically represented wage workers, and why we need to right Earth before we head to Mars.
Check back on Monday for the final episode of Stranger Than Fiction, as Tim Wu speaks to Robert Sawyer.
Future Tense is a partnership of Slate, the New America Foundation, and Arizona State University.
TODAY IN SLATE
Politics
The Democrats' War at Home
How can the president's party defend itself from the president's foreign policy blunders?