The Culture Gabfest "Fluffy Karaoke Chicken Bites Dog" Edition
Slate's Culture Gabfest on White God, Simon Doonan's "Charm Offensive," and karaoke.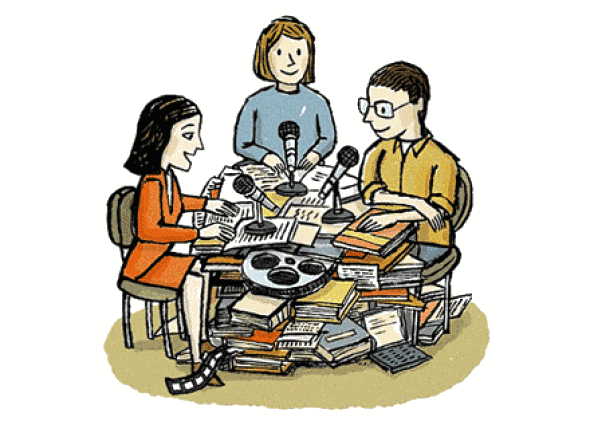 Listen to Culture Gabfest No. 341 with Stephen Metcalf, Julia Turner, and Dana Stevens with the audio player below.
Go to slate.com/cultureplus to learn more about Slate Plus and join today. This week on Slate Plus, listen to Steve, Dana, and Julia divulge tales of their charm mentors.
New York listeners can join Julia Turner, John Swansburg, and other Slatesters to watch the premiere of the final half-season of Mad Men at the Bell House in Brooklyn on April 5. The event is FREE! Slate Plus members can arrive at 8 p.m. for preferred seating and a cocktail hour with Julia and Slate writers and editors. General admission is at 9. RSVPs required: Go to slate.com/madmen for details.
On this week's Slate Culture Gabfest, the critics discuss the film White Dog, a searing parable about childhood and animal cruelty. Next up, guest Simon Doonan joins to talk about his recent Slate series on charm. Is dazzle defunct in the modern world, or are we simply winning people over in charming new ways? Finally, the gabfesters and guest Dan Kois took a field trip to a karaoke bar to report from the front lines.
Links to some of the things we discussed this week follow:
Outro: "Midnight Train to Georgia" karaoke rendition by Dana Stevens
This podcast was produced by Joel Meyer. Our intern is Lindsey Albracht.