The Culture Gabfest "Oh, Grow Up!" Edition
Slate's Culture Gabfest on A. O. Scott's eulogy to adulthood, "fingerprint" words, and the Apple Watch.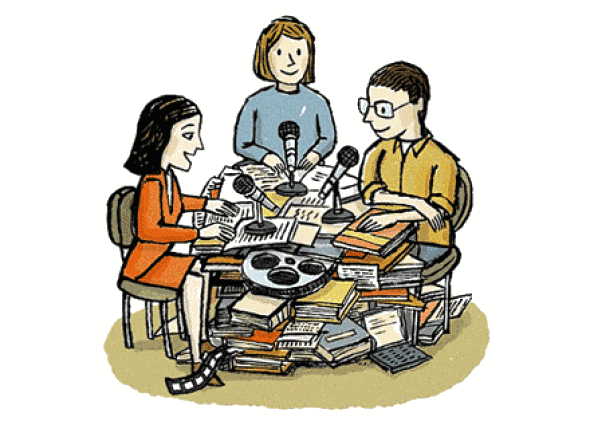 Listen to Culture Gabfest No. 313 with Stephen Metcalf, Julia Turner, and Dana Stevens with the audio player below.
This week Slate Plus members will hear a portrait of the Culture Gabfest listener: An interview with two fans who enjoy the show so much that their dream bachelorette party took place at our early rainy morning taping. Go to slate.com/cultureplus to learn more about Slate Plus and join today.
The L.A. live show is coming up! We will by joined by special guests John August and Craig Mazin from the much-endorsed Scriptnotes podcast. Tickets for the Boston live show on Oct. 20 are also available.
On this week's episode, the critics talk about A. O. Scott's rollicking Times piece, in which he rang the patriarch's death knell: He's not relevant, not interesting, and not on television anymore. Does Scott's gender-centric take on the end of adulthood get it right, or miss the point? Next up, Slate's Matthew J. X. Malady thought that "iteration" belonged to him, but he was wrong. The gabbers talk about Malady's coinage, "fingerprint words"—the vocabulary we deem ours and ours alone. Does the Culture Gabfest have pet words, and, if so, are they a rhetorical crutch or further proof that our critics are just especially excellent at conversations? Finally, wearable tech. Once, we wore a special hat in bed and a watch on a chain. Now, we do high-tech fabrics and Bluetooth headsets. This week Apple trounced Google Glass with something even Back to the Future-ier: the Apple Watch. Would our critics wear such a thing, or is the "asshole factor" simply too high?
Links to some of the things we discussed this week follow:
Dana: Losing your phone, just for a day.
This podcast was produced by Andy Bowers and Ann Heppermann. Our intern is Josephine Livingstone.