The Culture Gabfest "Do Bert and Ernie Get It On?" Edition
Slate's podcast about The New Yorker's gay marriage cover, Pedro Almodóvar's latest film I'm So Excited, and Showtime's new drama Ray Donovan.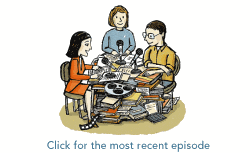 Listen to Culture Gabfest No. 250 with David Haglund, Dana Stevens, and June Thomas with the audio player below:
The sponsors of today's show are 23andme.com and Audible. Go to 23andme.com/Slate for your $99 personal genetic profile. Get a free audiobook from Audible's collection of more than 100,000 titles and a subscription to a daily audio digest when you sign up for a 30-day free trial at www.audiblepodcast.com/culturefest.
Culturefest is on the radio! "Gabfest Radio" combines Slate's Culture and Political Gabfests in one show—listen on Saturdays at 7 a.m. and Sundays at 6 p.m. on WNYC's AM820.
On this week's episode, our critics discuss the controversy surrounding The New Yorker cover commemorating the Supreme Court's decision to strike down the Defense of Marriage Act. Was the image of Sesame Street's Bert and Ernie watching the news an appropriate one for a major civil rights victory? Then the gabbers take a look at Pedro Almodóvar's new film I'm So Excited. Why has he returned to comedy when Spain is in the throes of an economic crisis? Finally, the crew considers Showtime's new series Ray Donovan and asks why prestige dramas are so fixated on antiheroes.
Here are links to some of the things we discussed this week:
David: The Act of Killing, a forthcoming documentary about state-sanctioned murders in Indonesia.
Outro: "I'm So Excited," by the Pointer Sisters
You can email us at culturefest@slate.com.

This podcast was produced by Julia Furlan. Our intern is Sam McDougle, and this week we had help from Sharan Shetty.