Repeat After Me
I watched every Pedro Almodóvar movie. Here's what I learned.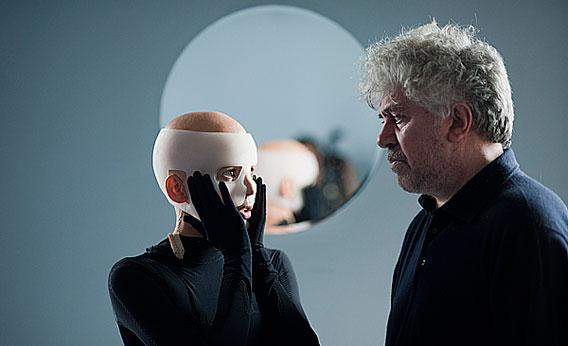 In Pedro Almodóvar's new film The Skin I Live In, a character announces that "stories repeat themselves." If, like me, you spent the last month watching each one of Almodóvar's 18 feature films, the only possible response to that statement is, "No shit, señora!" Experiencing the Almodóvar filmography is like stepping into one of those endlessly repeating M.C. Escher paintings.
Some motifs recur so frequently that I feared for my sanity. You know how, in police procedurals, the cops search a conspiracy-crazed suspect's home and find the walls obsessively covered in newspaper clippings and photographs? That was me, totting up the number of movies in which Almodóvar characters use aliases (12), visit pharmacies (4), or keep unusual pets (3). Did you know, for instance, that six films involve characters who live outside the city, but only one of those country-house residents lives to the end of the movie? (He was a renter.)
I'd seen all but one of Almodóvar's films before, some several times, and in those casual viewings I hadn't been bothered by the echo effect. Recognizing a reference is a reward for making frequent visits to Pedrolandia. In Broken Embraces (2009), for example, it soon becomes clear that Chicas y Maletas, the movie being made by the director-protagonist, is a bizarro-world version of Almodóvar's first international hit, Women on the Verge of a Nervous Breakdown (1988), right down to its distinctive retro aesthetic and quirky plot points—a burning bed, a batch of gazpacho laced with sleeping pills, a visit from a funny friend in trouble.
Anyone who has seen Women on the Verge would recognize that tribute, but other repetitions are more difficult to spot, especially if you experience the movies "organically," seeing them as they are released, one every couple of years. Few people watching the scene in All About My Mother (1999) in which Manuela searches for her ex-husband by having a taxi drive around the neighborhood of Barcelona where transsexual prostitutes do business will recall an almost identical passage in Labyrinth of Passion (1982), in which the former empress of Tiran tours Madrid's gay cruising areas in the back of a cab, looking for her stepson. Would movie-goers who see a priest enjoying a song performed by his favorite schoolboy in Bad Education (2004) flash back to Dark Habits (1984), in which a nun is serenaded by a torch singer on whom she has a crush? Will the audience of The Skin I Live In realize that its most disturbing scene is a replay of an incident in Kika (1993)? (To avoid spoiling the new movie, I won't describe it beyond saying it involves bondage and rape.)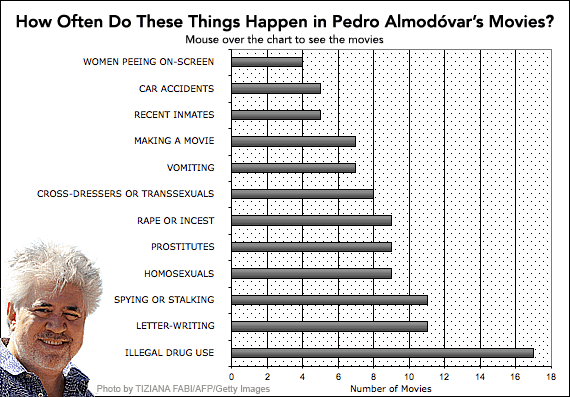 This is not to suggest that Almodóvar is a copy-and-pasting self-plagiarizer. Instead, he worries at topics and situations, rehearsing them over and over until he figures out what he really wants to say. The Flower of My Secret (1995), the story of Leo, a romance novelist who needs to make some big changes in her life, begins incongruously with a scene of two white-coated doctors attempting to convince a mother that her son is brain dead and she should permit his organs to be donated. It turns out to be a role-playing exercise led by Leo's best friend, and although the themes of sorrow and second chances resonate with the movie's storyline, it still feels slightly out of place. Two films later, in All About My Mother, the scene is replayed almost exactly: At a seminar, two white-coated doctors must attempt to persuade a woman that there is no hope for her husband but that his organs could help others to live. Here, though, the grieving widow is the movie's main character, and the dilemma she faces—how to accept a hideous loss and move on to a new life—is the movie's main focus. In Law of Desire (1987), Tina, a transsexual played by Carmen Maura in the performance of a lifetime, returns to the chapel where she was a choirboy and meets the priest who was her first love. It's a powerful scene, but it lasts three minutes, after which Father Constantino is all but forgotten. Seventeen years later, in Bad Education, the consequences of a priest abusing a boy under his care—the choir's star soloist—play out at the center of the movie.
Almodóvar's habit of picking up threads years after he dropped them is also on display in The Flower of My Secret, when Leo's outraged publisher describes the completely unsuitable manuscript the romance writer has sent her way: "A woman … discovers that her daughter has killed her father, who had tried to rape her, and so that no one finds out, she hides the body in the cold-storage room of a neighbor's restaurant." That may not be the romance novel the publisher was hoping for, but it is an astonishingly accurate description of the first 30 minutes of Volver (2006), released 11 years later.
The director explained this process of revisiting and revising in a 1998 interview with French film magazine Positif. After he filmed Carmen Maura performing a scene from Cocteau's La Voix Humaine—a monologue in which a woman speaks into a phone—in Law of Desire, he couldn't leave it behind, and as he continued to think about the story, it evolved into Women on the Verge. "The basic situation remains the same: a woman is waiting by the phone with a suitcase full of her lover's belongings. But, as I kept writing, everything was fading. All that was left at the end was the desperate woman, the phone, and the suitcase."
Of course, this dogged persistence doesn't quite explain why he is so compelled to return to the same scenes and situations over and over again. It doesn't completely clarify why 11 of Almodóvar's protagonists are writers; why 11 of his movies feature characters getting wet in showers, baths, fountains, rainstorms, or via street-cleaners' hoses just before a decisive event; and why they have a tendency to don red outfits for key scenes (as they do in pretty much every film); why 12 of his movies show men watching television; why 11 have scenes set in hospitals; and why 15 of them pause for a live performance.
I am confident, though, that all will become clear some day, because the greatest sin in Almodóvar's universe is a failure to communicate. His films are packed with missed phone calls, letters than didn't arrive, the living reading dead people's diaries, and people telling each other that they really need to talk. When characters say this, they mean they want to talk until they're understood. The same goes for the viewers: If they don't get what Almodóvar is trying to tell them, they just need to keep listening.
If Almodóvar has an agenda, it's the gospel of perseverance. That's the message of his films' frequent scenes of transformation. Putting on special clothes (a priest's surplice, the bullfighter's traje de luces, the female impersonator's padding and wig, a nice dress) or makeup (13 of the films show someone primping in front of a mirror) can provide a new identity, and with it a second chance to connect.