The Culture Gabfest "Mini Goth Dumbo" Edition
Slate's podcast about the MTV series Catfish, on the end of privacy, and Dana Stevens' screed against flip-flops.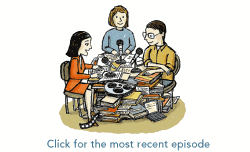 Listen to Culture Gabfest No. 251 with Stephen Metcalf, Dana Stevens, and Julia Turner with the audio player below.

The sponsors of today's show are MailChimp.com and Stamps.com. Use MailChimp to design and send email marketing campaigns today. Go to Stamps.com and use the promo code "CULTUREFEST" for your no-risk free trial and bonus offer.
Culturefest is on the radio! "Gabfest Radio" combines Slate's Culture and Political Gabfests in one show—listen on Saturdays at 7 a.m. and Sundays at 6 p.m. on WNYC's AM820.
On this week's episode, our critics discuss the MTV series Catfish, which is based on the 2010 documentary film of the same name. One of the show's executive producers, Nomi Ernst Leidner, joins the Gabfest to dissect the knotty issues surrounding long-distance online relationships, fake personal profiles, and the mechanics of reality TV production. Then, our critics consider Frank Rich's recent column in New York magazine, in which he lays the blame for privacy's death not on the NSA or media corporations, but on American exhibitionism and our increasing lust for attention. Is he right? Do Americans no longer care about privacy? Finally, the Gabfest's own Dana Stevens recently published a blistering screed against flip-flops—breezy summer sandals or unhygienic harbingers of the apocalypse?
Here are links to some of the things we discussed this week:
Dana: The TLC reality show about a cake shop in New Jersey, Cake Boss.
Stephen: Edmund Wilson's book on the Civil War and the birth of modern America, Patriotic Gore.
Outro: "Parents Just Don't Understand," by DJ Jazzy Jeff & The Fresh Prince.
You can email us at culturefest@slate.com.

This podcast was produced by Dan Pashman. Our intern is Sam McDougle.