The Culture Gabfest, "Velveteen Gabfest" Edition
Slate's Culture Gabfest on Boardwalk Empire, Catfish, and the rest of the week in culture.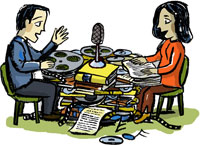 Listen to Culture Gabfest No. 105 with Stephen Metcalf, Dana Stevens, and Julia Turner by clicking the arrow on the audio player below:
You can also download the program here, or you can subscribe to the weekly Culture Gabfest podcast feed via iTunesor directly with our RSS feed. Find the Culturefest Facebook page here. Leave us a note and see what other listeners have to say about the latest podcast.
This episode is brought to you by Carbonite, the leader in online backup. Carbonite backs up your files automatically, whenever you connect to the Internet. Try Carbonite for free. Go to Carbonite.com, and enter offer code SLATE. If you decide to buy the service (after the trial), you'll get two months free with offer code SLATE.
In this week's Culture Gabfest, our critics discuss the new HBO series Boardwalk Empire and the controversial documentary Catfish. They are also joined by Slate contributor Joshua Wolf Shenk to talk about John Lennon, Paul McCartney, and Shenk's series on creative pairs.
Here are links to some of the articles and other items mentioned in the show:
The official page for HBO's Boardwalk Empire.
Alessandra Stanley's review of Boardwalk Empire in the New York Times.
The Catfish official site.
Dana Stevens' review of Catfish, with optional spoilers.
Joshua Wolf Shenk's series for Slate on creative pairs: the intro; Lennon/McCartney Part 1, Part 2, and Part 3.
Idiotbooks.com, the Web site of Matthew Swanson and Robbi Behr, the subjects of the next piece in the "Creative Pairs" series.
Shenk.net, Joshua Wolf Shenk's Web site.
The Creative Pairs Facebook page.
The trailer for Nowhere Boy, a forthcoming film about how John Lennon became John Lennon. (A young Paul McCartney shows up to help out.)
The Culture Gabfest weekly endorsements:
Outro music: "New York City Serenade," live at the Main Point.
Posted on Sept. 22 by Jacob Ganz at 11 a.m.