The Culture Gabfest "The Duchess Has a Vagina" Edition
Slate's podcast about the new Netflix series Orange Is the New Black, the documentary The Act of Killing, and the royal baby.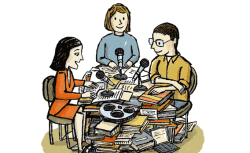 Listen to Culture Gabfest No. 253 with Stephen Metcalf, Dana Stevens, Julia Turner, and Simon Doonan with the audio player below
Culturefest is on the radio! Gabfest Radio combines Slate's Culture and Political Gabfests in one show. Listen on Saturdays at 7 a.m. and Sundays at 6 p.m. on WNYC's AM820.
On this week's episode, our critics discuss the new Netflix original series Orange Is the New Black, which chronicles the 15 months one woman spent in federal prison and is based on Piper Kerman's memoir of the same name. What does the show say about our obsession with fish-out-of-water middle-class characters caught in a world of crime? And does it continue Netflix's promising track record of original programming? The gabbers then dissect the unsettling, gorgeous, and absolutely original new documentary The Act of Killing. The film follows several perpetrators of a mass killing of alleged communists in mid-1960s Indonesia as they stage re-enactments of their harrowing techniques and confront their own deeds in the process. Lastly, Simon Doonan joins to add a British perspective as the gabbers chat about the newborn royal baby and ask the key question: Who cares?
Julia: Mark Bittman's recipe for "Pasta With Sardines, Bread Crumbs, and Capers," for the New York Times.
Outro: "I'm Gone" by Tamaryn.
This podcast was produced by Dan Pashman. Our intern is Sam McDougle.