Prog Bots Into Darkness Edition
Slate's podcast about the Star Trek franchise, Daft Punk's new album Random Access Memories, and Google Glass.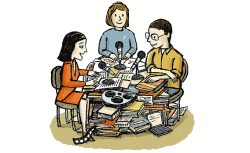 Listen to Culture Gabfest No. 244 with Stephen Metcalf, Dana Stevens, and June Thomas with the audio player below.
Culturefest is on the radio! "Gabfest Radio" combines Slate's Culture and Political Gabfests in one show—listen on Saturdays at 7 a.m. and Sundays at 6 p.m. on WNYC's AM820.
On this week's episode, our critics discuss the joyfully unkillable Star Trek franchise with Slate's own Matthew Yglesias. They are then joined by music critic Jonah Weiner to review Random Access Memories, the much-hyped new album from the space-helmet-sporting French electronica duo Daft Punk. Lastly, the Gabfest crew takes a look at Google's new smartphone for your face, Google Glass: Will it extend our human powers or finally debauch them for good?
Here are links to some of the things we discussed this week:
Dana: Scottish-born singer, songwriter, poet, and humorist Ivor Cutler.
June: Syfy's dystopian, future-frontier-town based, alien-infused series Defiance.
Outro: "I'm Walking to a Farm" by Ivor Cutler
You can email us at culturefest@slate.com.

This podcast was produced by Julia Furlan. Our intern is Sam McDougle.