The Culture Gabfest: The Mason-Dixon Needs Some Fixin' Edition
Slate's podcast about the Brad Paisley-LL Cool J collaboration "Accidental Racist," the digital currency bitcoin, and HBO's newsmagazine show Vice.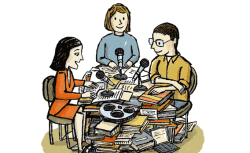 Listen to Culture Gabfest No. 239 with Stephen Metcalf, Dana Stevens, and June Thomas with the audio player below:
Culturefest is on the radio! "Gabfest Radio" combines Slate's Culture and Political Gabfests in one show. Listen on Saturdays at 7 a.m. and Sundays at 6 p.m. on WNYC's AM820.
On this week's episode, Slate's Aisha Harris sits in to discuss the Brad Paisley-LL Cool J collaboration "Accidental Racist." Our critics ponder whether this song about white guilt in the New South is mawkish, racist, or both. Then, Slate's technology columnist Farhad Manjoo joins the conversation to provide insight into bitcoin, the peer-to-peer digital currency that is an anti-authoritarian's dream come true. Finally, the 'festers debate the new HBO newsmagazine show Vice, from its macho posturing to its potential to bring current affairs of import to otherwise disaffected millenials.
Here are links to some of the things we discussed this week:
Dana: The piece of music that musicians want played at their funerals, to be listened to when you're ready to sit, look out the window, and weep: Schubert's "String Quintet in C Major," performed by Isaac Stern, Pablo Casals, Milton Katims, Alexander Schneider, and Paul Tortelier.
June: In light of the death of Margaret Thatcher, the contentious 1987 movie Sammy and Rosie Get Laid, about a bohemian couple in 1980s London.
Stephen: Russell Brand for the Guardian on the death of Margaret Thatcher, an essay full of wit, self-awareness, and sensitivity. Also, "When Dickens met Dostoevsky," Eric Naiman's essay for the Times Literary Supplement on the massive literary hoax about the supposed meeting of Charles Dickens and Fyodor Dostoyevsky.
Outro: "For Boston" by the Dropkick Murphys