The Culture Gabfest: Falling Off the Treadmill Vomiting Edition
Slate's podcast about the year in movies, The Biggest Loser, and the decline of the American shopping mall.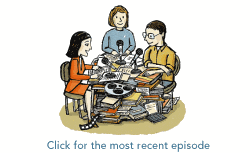 Listen to Culture Gabfest No. 225 with Dan Engber, Stephen Metcalf, Dana Stevens, and Julia Turner by clicking the arrow on the audio player below:
The sponsors of today's show are Stamps.com and Audible.com. Go to Stamps.com and use the promo code "CULTUREFEST" for your no-risk free trial and bonus offer. Get a free audiobook from Audible's collection of more than 100,000 titles and a subscription to a daily audio digest when you sign up for a 30-day free trial at www.audiblepodcast.com/culturefest.
Culturefest is on the radio! "Gabfest Radio" combines Slate's Culture and Political Gabfests in one show—listen on Saturdays at 7 a.m. and Sundays at 6 p.m. on WNYC's AM820.
On this week's episode, our critics discuss the year in movies including the best of 2012, standouts previously discussed on the Culturefest, and Gabfester favorites. Then, Slate columnist Dan Engber joins the conversation to discuss the NBC reality show The Biggest Loser, obesity in American culture, and a study that sheds new light on the link between weight and mortality. Finally, the critics consider the American shopping mall and how it came to be, its unique place in popular culture, and whether we'll miss the mall when it's gone.
Here are some links to the things we discussed this week:
Julia's pick: Tom Hooper's 2008 HBO series John Adams.
Outro: "Valley of the Malls" by Fountains of Wayne