The Culture Gabfest: "I Normally Have To Be Drunk Off My Ass To Do This" Edition
Slate's podcast about Beasts of the Southern Wild, why the art world is so despicable, and Beck's Song Reader.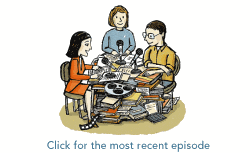 Listen to Culture Gabfest No. 221 with Simon Doonan, David Haglund, Stephen Metcalf, Jody Rosen, and Dana Stevens by clicking the arrow on the audio player below:
The sponsors of today's show are Stamps.com and Audible.com. Go to Stamps.com and use the promo code "CULTUREFEST" for your no-risk free trial and bonus offer. Get a free audiobook from Audible's collection of more than 100,000 titles and a subscription to a daily audio digest when you sign up for a 30-day free trial at www.audiblepodcast.com/culturefest.
On the Dec. 26 episode of the Culturefest, Julia, Dana, and Stephen will gab at your behest! Call 424-255-7833 by Wednesday, Dec. 19 at 6 p.m. EST and leave us a voicemail with a question, cultural or otherwise, that you've always wanted to hear us discuss.
Culturefest is on the radio! "Gabfest Radio" combines Slate's Culture and Political Gabfests in one show—listen on Saturdays at 7 a.m. and Sundays at 6 p.m. on WNYC's AM820.
On this week's Culturefest, our critics are joined by Slate Brow Beat editor David Haglund to discuss the award-winning indie darling, Beasts of the Southern Wild. They consider the movie's ambition, scope, and DIY ethic as well as its potentially fetishizing gaze. The Gabfesters are then joined by Slate contributor and Barneys Creative Ambassador-at-Large Simon Doonan to discuss how the mashing up of art with fashion and popular culture has lead to the art world's currently loathsome state. Finally, Slate music critic Jody Rosen sits in to first talk about Beck's Song Reader and the legacy of sheet music in popular American music and then to join in on the Culturefest rendition of Beck's "Do We? We Do."
Here are some links to the things we discussed this week:
Dana Stevens' review for Slate of Beasts of the Southern Wild.
From the New York Times, A.O. Scott's review of Beasts of the Southern Wild and an article on the making of the movie.
The co-stars of the movie, Quvenzhané Wallis and Dwight Henry.
The filmmaker Paul Thomas Anderson.
Simon Doonan for Slate on the current state of the art world.
The "grandmother of performance art," Marina Abramović.
The artists Dan Flavin, Damien Hirst, and Rachel Whiteread.
Art collector and gallerist Charles Saatchi.
Working artists whose work Simon recommends: John-Paul Philippé, Malcolm Hill, and Ruben Toledo.
Beck's new folio of sheet music, Song Reader, and the website that features readers' and musicians' renditions of its songs.
Geeta Dayal for Slate on Song Reader.
The Beck album Odelay, produced by The Dust Brothers.
Jody's favorite online sheet music repositories, The Lester S. Levy Collection of Sheet Music and Sheet Music Consortium.
The composer and lyricist, Irving Berlin.
Recent hit singles "Call Me Maybe" and "Gangnam Style."
Dana's pick: The documentary Gerhard Richter Painting, about the German artist and his ability to continue to create art with skill and craft.
Outro: "Die in Your Arms" by Justin Bieber
This podcast was produced by Dan Pashman. Our intern is Sally Tamarkin.