The Culture Gabfest: "Slut on a Hot Tin Roof" Edition
Slate's podcast about Liz & Dick, the Web-video montages known as supercuts, and the possibly dubious app Snapchat.
Listen to Culture Gabfest No. 219 with Stephen Metcalf, Dana Stevens, Seth Stevenson, and Julia Turner by clicking the arrow on the audio player below:

The sponsors of today's show are Stamps.com and Audible.com. Go to Stamps.com and use the promo code "CULTUREFEST" for your no-risk free trial and bonus offer. Get a free audiobook from Audible's collection of more than 100,000 titles and a subscription to a daily audio digest when you sign up for a 30-day free trial at www.audiblepodcast.com/culturefest.
Culturefest is on the radio! "Gabfest Radio" combines Slate's Culture and Political Gabfests in one show—listen on Saturdays at 7 a.m. and Sundays at 6 p.m. on WNYC's AM820.
On this week's Culture Gabfest, our critics discuss Lindsay Lohan as Elizabeth Taylor in the Lifetime film Liz & Dick, Slate's Seth Stevenson drops by to discuss his piece on the Web-video montages known as supercuts, and the hosts debate whether the photo sharing app Snapchat is a tool for teenage vice or a harmless waste of time.
Here are some links to the things we discussed this week: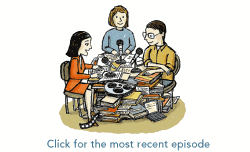 Dana's pick: The new Slate blog of historical treasures and oddities, The Vault.
Julia's pick: An iPhone game called Flow.
Stephen's pick: The poem "First Sight" by Philip Larkin.
Outro: "Roly Poly" by Bob Wills and His Texas Playboys
This podcast was produced by Dan Pashman. Our intern is Sally Tamarkin.