The Culture Gabfest: Why Did You Give Me That Bag of Skittles? Edition
Slate's podcast about the 40th anniversary of Free To Be … You and Me, Saturday Night Live debate spoofs, and HeTexted.com.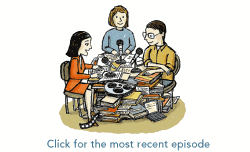 Listen to Culture Gabfest No. 214 with Dan Kois, Stephen Metcalf, Dana Stevens, and Julia Turner by clicking the arrow on the audio player below:

The sponsors of today's show are Stamps.com and the Emmy-winning PBS series Independent Lens, the weekly series that showcases the best in documentary film every Monday night at 10 p.m. on PBS. Go to Stamps.com and use the promo code "CULTUREFEST" for your no-risk free trial and bonus offer.
Culturefest is on the radio! "Gabfest Radio" combines Slate's Culture and Political Gabfests in one show. Listen on Saturdays at 7 a.m. and Sundays at 6 p.m. on WNYC's AM820 or on New Jersey Public Radio.
On this week's Culturefest, our critics are joined by Slate senior editor Dan Kois to discuss his article on the 40th anniversary of Free To Be … You and Me and whether its advocation of gender equality remains relevant and its feminist ideals convincing to children today. The Gabfesters then consider the institution that is the Saturday Night Live debate send-up and how its origins as Dada event comedy translate to a television landscape saturated with political satire. Finally, they discuss the website HeTexted.com and crowdsourcing the deciphering of romantic ambiguity.
Here are some links to the things we discussed this week:
Dan Kois on the 40th anniversary of Free To Be … You and Me for Slate.
Songs from Free To Be … You and Me: "William's Doll," "Parents Are People," and "Girl Land."
I'm Glad I'm a Boy!: I'm Glad I'm a Girl! by Whitney Darrow.
That Girl, the TV show Marlo Thomas starred in from 1966 to 1971.
Books with empowered female characters, including Pippi Longstocking, the Anne of Green Gables series, Pride and Prejudice, and Little Women.
A few of the celebrities involved with Free To Be ... You and Me: Harry Belafonte, Alan Alda, Cicely Tyson, and Diana Ross.
Episode 207 of the Slate Culture Gabfest, which discussed Jonathan Chait's New York article about the media's liberal bias.
Saturday Night Live's presidential debate spoofs, including Romney and Obama in a town-hall-style debate, Sarah Palin vs. Joe Biden in 2008, Dan Aykroyd as Jimmy Carter, and a bunch from 1976 to today.
President Obama on the "you haven't seen me naked" episode of The Late Show With David Letterman.
SNL writer Jim Downey in an interview for the New Republic discussing the challenge of spoofing presidential candidates.
The speech made by then-Illinois State Sen. Obama in 2004 at the Democratic National Convention, launching him as a potential presidential contender for 2008.
Laura Bennett for the New Republic on how dead accurate presidential impersonations miss the point.
HeTexted.com, the site that allows you to crowdsource close reading of texts from the men in your life.
Rebecca Greenfield for the Atlantic Wire on HeTexted.com as a vehicle for mocking women's cluelessness about men.
The Guardian's Ally Fogg on "Modern Romance for Generation Text."
Dana's pick: The Twitter feed of National Geographic's Digital Nomad Andrew Evans, who travels around the world tweeting as he goes. His Twitter feed is full of wonderful photos, guess-where-I-am contests, and assorted enviable content.
Julia's pick: For New Yorkers and visitors alike, the not-to-be missed Brooklyn Heights gem, Iris Café. Walk the Brooklyn Bridge, stop by the Brooklyn Heights Promenade, and visit Iris Café to experience the platonic ideal of a sandwich.
Stephen's pick: Vergennes Laundry, an understated, stylish coffee shop with a low hipster-per-square-foot ratio in Vergennes, Vt.
Outro: "It's All Right To Cry" by Rosey Grier from Free To Be … You and Me
This podcast was produced by Dan Pashman. Our intern is Sally Tamarkin.