The Culture Gabfest: Bengal Tiger Giving Birth Edition
Slate's podcast on the fall TV lineup, Hollywood's liberal bias, and the Norton Anthology of English Literature.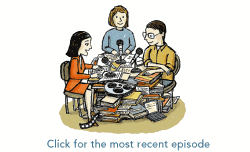 Listen to Culture Gabfest No. 207 with Stephen Metcalf, Dana Stevens, Julia Turner, and June Thomas by clicking the arrow on the audio player below:

The sponsors of today's show are Stamps.com and Audible.com. Go to Stamps.com and use the promo code "CULTUREFEST" for your no-risk free trial and bonus offer. Get a free audiobook from Audible's collection of more than 100,000 titles and a subscription to a daily audio digest when you sign up for a 30-day free trial at www.audiblepodcast.com/culturefest.
The Culturefest is on the radio! "Gabfest Radio" combines Slate's Culture and Political Gabfests in one show—listen on Saturdays at 7 a.m. and Sundays at 6 p.m. on WNYC's AM 820.
On this week's Culture Gabfest, our critics discuss early previews of the fall TV lineup, including The New Normal, The Mindy Project, and Animal Practice, plus Jonathan Chait's piece on Hollywood liberalism and the 50th anniversary of the Norton Anthology of English Literature.
Here are some links to the things we discussed this week:
Julia endorses corn pudding, and Dana adds a recommendation for Ina Garten's recipe.
Stephen endorses the 1980 Paul Schrader film American Gigolo, which launched Richard Gere's career and which Stephen says is vastly underrated.
This podcast was produced by Dan Pashman. Our intern is Sally Tamarkin.