The Culture Gabfest: Scary Mascot Edition
Slate's podcast about Jonah Lehrer's fabrication and resignation, the London Olympics, and the documentary Ai Weiwei: Never Sorry.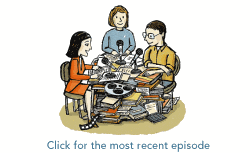 Listen to Culture Gabfest No. 202 with Stephen Metcalf, Dana Stevens, Seth Stevenson, and Julia Turner by clicking the arrow on the audio player below:

Advertisement

The sponsors of today's show are Stamps.com and Audible.com. Go to Stamps.com and use the promo code "CULTUREFEST" for your no-risk free trial and bonus offer. Get a free audiobook from Audible's collection of more than 100,000 titles and a subscription to a daily audio digest when you sign up for a 30-day free trial at www.audiblepodcast.com/culturefest.
On this week's Culture Gabfest, our critics consider Jonah Lehrer's resignation from the New Yorker following the discovery that some of the quotes he attributed to Bob Dylan in his latest book were fabricated. The Gabfesters are then joined by Slate contributor Seth Stevenson to contemplate the 2012 London Olympics mascots, Wenlock and Mandeville, and their place in the Olympic mascot pantheon. To set the stage for a discussion of the opening ceremony, Julia provides a vivid recap of Danny Boyle's witty, wacky, and distinctly British 2012 offering. Finally, the critics discuss the documentary Ai Weiwei: Never Sorry and the work of the Chinese artist, dissident, and provocateur Ai Weiwei.
Here are some links to the things we discussed this week:
Josh Levin for Slate on why Jonah Lehrer plagiarized himself.
Jonah Lehrer's resignation from the New Yorker after he was discovered to have fabricated quotes for one of his books.
Michael C. Moynihan, the self-proclaimed Bob Dylan nerd who discovered and reported Lehrer's fabrication.
Jayson Blair, the former New York Times reporter who resigned after the discovery of his own fabrication and plagiarism, on Jonah Lehrer.
Jonah Lehrer's best-selling books Proust Was a Neuroscientist, How We Decide, and Imagine: How Creativity Works.
Journalists who have plagiarized or fabricated their work Stephen Glass, Jayson Blair, and Ruth Shalit.
Shattered Glass, the movie about Stephen Glass' fabulism at the New Republic.
The "idea man" journalism of Malcolm Gladwell.
Slate's Seth Stevenson's grand unified theory of Olympic mascots and what makes London 2012's Wenlock and Mandeville so creepy.
Five-Ring Circus, Slate's blog about the Olympic Games.
Quatchi, one of the mascots from the 2010 Vancouver Olympics.
The mascots of the 2008 Beijing Olympics, Fuwa.
The cycloptic, molten-steel mascots of London's 2012 Olympics, Wenlock and Mandeville.
England's patriotic anthem, Hubert Parry's "Jerusalem."
Squash 2020: Back the Bid T-shirts that support the movement to get squash an Olympic bid in 2020.
A recap in still images of the London Olympics' opening ceremony and the Guardian's liveblog of the event.
More of Slate's Olympic coverage, including Internet conspiracy theorists and Wenlock and Mandeville, the Sap-o-Meter, NBC's Missy Franklin screw-up, and the evolution of the women's gymnastics floor exercise.
Ai Wewei: Never Sorry on IFC.
Ai Weiwei's work as the artistic consultant for Beijing's National Stadium, also called the "Bird's Nest," which was used for the 2008 Beijing Olympics.
Slate's interviews with Ai Weiwei about what it's like to live under surveillance.
An interview with Alison Klayman, director of Ai Weiwei: Never Sorry.
Ai Weiwei's project to document each child killed in the 2008 Sichuan earthquake.
Paul Verhoeven's movies Basic Instinct, Showgirls, and Starship Troopers.
Twelve Monkeys, the 1995 movie inspired by Chris Marker's La Jetée.
The movies with a clear La Jetée legacy, Inception and The Matrix.
Dana's pick: Total Recall, the 1990 smart science fiction movie from director Paul Verhoeven, in advance of the reboot coming out this week.
You can email us at culturefest@slate.com.

This podcast was produced by Jesse Baker. Our intern is Sally Tamarkin.

TODAY IN SLATE
Foreigners
More Than Scottish Pride
Scotland's referendum isn't about nationalism. It's about a system that failed, and a new generation looking to take a chance on itself.