The Culture Gabfest, "Wild Oversimplification" Edition
Listen to Slate's show about Kony 2012, Game Change, and Werner Herzog's On Death Row.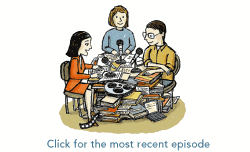 Listen to Culture Gabfest No. 182 with Dana Stevens, John Swansburg, and June Thomas by clicking the arrow on the audio player below:
The Slate Culture Gabfest is coming to Los Angeles on March 20, in partnership with Zócalo Public Square. Our special guest will be Elizabeth Banks. Tickets are sold out but there is a standby list here.
This episode of the Slate Culture Gabfest is brought to you by Audible.com. Choose a free audiobook from Audible's collection of more than 100,000 titles when you sign up for a 30-day free trial at www.audiblepodcast.com/culturefest.
We're also sponsored by Netflix. Watch thousands of TV episodes and movies on your PC, Mac, iPad, iPhone, or TV instantly, all streamed directly to you, saving you time, money, and hassle. For your free 30-day trial, go to www.netflix.com/slate.

In this week's Culture Gabfest, Dana Stevens and guest critics John Swansburg and June Thomas analyze the new activist viral video Kony 2012. Next, they cast their vote on Game Change, HBO's new docudrama about the 2008 election. Finally, the Gabfesters discuss Werner Herzog's new documentary series for Investigation Discovery, On Death Row.
Here are some links to the things we discussed this week: