The Culture Gabfest, Teen Beat Edition
Listen to Slate's show about the week in culture.
Updated Wednesday, Sept. 30, 2009, at 11:25 AM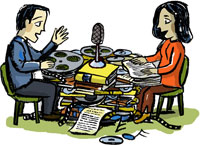 Listen to Culture Gabfest No. 54 with Stephen Metcalf, Dana Stevens, June Thomas, and Julia Turner by clicking the arrow on the audio player below:
You can also download the program here, or you can subscribe to the weekly Culture Gabfest podcast feed in iTunes by clicking here.
Get your 14-day free trial from our sponsor Audible.com, which includes a credit for one free audiobook, here. (Audiobook of the week: Bright Lights, Big City by Jay McInerney, read by Daniel Passer.)
Find the Culturefest Facebook page here. Leave us a note and see what other Culturefest listeners have to say about the latest podcast.
In this week's Culture Gabfest, our critics discuss Roman Polanski's arrest in Switzerland and possible extradition to California for sentencing on a decades-old sexual abuse case, the new Fox TV musical drama Glee, and the New York Times Magazine cover story on gay middle-schoolers.
Here are links to some of the articles and other items mentioned in the show:
The Los Angeles Times' ongoing coverage of the Polanski scandal.
Victim Samantha Geimer's 2003 op-ed on Polanski in the Los Angeles Times.
Brian Palmer's "Explainer" column for Slate on the Polanski charges.
Kate Harding's post on Salon's Broadsheet blog.
Carl Franzen posts from  pro- and anti-Polanski bloggers on the Atlantic Wire blog.
In Slate, Troy Patterson disses the 2008 documentary Roman Polanski: Wanted and Desired; Kim Masters breaks down what it got wrong.
The Smoking Gun's archive on Polanski.
The official Web site for Glee, including full episodes.
The Newark Star Ledger's Alan Sepinwall reviews Glee's spring and fall premieres.
Benoit Denizet-Lewis' story on gay teenagers coming out of the closet in the NYTimes Magazine.
Joe Coscarelli's post for Mediaite on whether Denizet-Lewis' story exploits its teenage subjects.
The Culture Gabfest weekly endorsements:
MYSLATE