The Culture Gabfest, Monopoly Edition
Listen to Slate's show about the week in culture.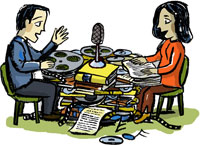 Listen to Culture Gabfest No. 13 with Stephen Metcalf, Dana Stevens, and Julia Turner by clicking the arrow on the audio player below: You can also download the program here, or you can subscribe to the weekly Culture Gabfest podcast feed in iTunes by clicking here.
In this week's Culture Gabfest, our critics discuss Joss Whedon's new Web-only musical miniseries Dr. Horrible's Sing-Along Blog," Starbucks' abrupt move to shutter a number of its stores in the United States and abroad, and Google's newest challenger in the search field, Cuil.
Here are links to some of the articles and other items mentioned in the show:
The new Web miniseries from Buffy the Vampire Slayer creator Joss Whedon, Dr. Horrible's Sing-Along Blog.
The pre-eminent Joss Whedon Web community, Whedonesque.
The Guild, another Web series (preferred by some Culturefest gabbers) .
Eulogies from Slatereaders for some of the 600 U.S. Starbucks stores set to close.
Taylor Clark's Slate piece explaining how Starbucks actually helps mom-and-pop coffeehouses.
The new search engine Cuil.
Slate's reader contest: Figure out the best questions to ask Cuil, or any other search engine, to gauge its strengths and weaknesses.
The Culture Gabfest weekly endorsements:
Julia's pick: the Boggle-like Facebook word game Prolific (Facebook login required).
Stephen's pick: Scottish novelist Philip Kerr's Berlin Noir trilogy.
Dana's pick: WWII-era singer Jo Stafford, as heard on WNYC's Evening Music, hosted by David Garland.
Posted by Matt Lieber on July 31 at 10:59 a.m.
Listen to Culture Gabfest No. 12 with Stephen Metcalf, Dana Stevens, and Julia Turner by clicking the arrow on the audio player below: