The Culture Gabfest, Monopoly Edition
Listen to Slate's show about the week in culture.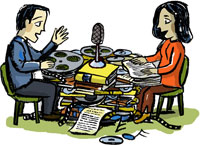 You can also download the program here, or you can subscribe to the weekly Gabfest podcast feed in iTunes by clicking here.
In this week's Culture Gabfest, our critics Stephen Metcalf, Dana Stevens, and Julia Turner discuss the rollout of the summer movie season, including the superhero movie Iron Man, Robert Downey Jr.'s nimble performance in it, and which of this summer's blockbusters look most promising.
Here are links to some of the articles and other items mentioned in the show:
The Culture Gabfest weekly endorsements:
Posted by Matthew Lieber on May 7 at 11:00 a.m.
Listen to Culture Gabfest No. 6 with critics Stephen Metcalf, Dana Stevens, and Julia Turner by clicking the arrow on the audio player below: