The Culture Gabfest, Monopoly Edition
Listen to Slate's show about the week in culture.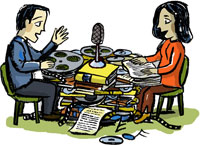 Posted by Matt Leiber on June 4 at 11:14 a.m.
Listen to Culture Gabfest No. 8 with Stephen Metcalf, Dana Stevens, and Julia Turner by clicking the arrow on the audio player below:
You can also download the program here, or you can subscribe to the weekly Culture Gabfest podcast feed in iTunes by clicking here.
In this week's Culture Gabfest, our critics discuss a New York magazine critique of monogamy, the aesthetically promiscuous—and recently departed—artist Robert Rauschenberg, and Barack Obama's affinity for the work of novelist Philip Roth, the great bard of infidelity.
Here are links to some of the articles and other items mentioned in the show:
New Yorkmagazine's skeptical inquiry into the sanctity of monogamy in American culture