The Culture Gabfest, Monopoly Edition
Listen to Slate's show about the week in culture.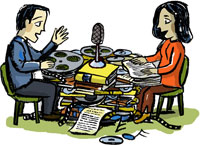 The Culture Gabfest weekly endorsements:
Posted by Amanda Aronczyk on June 18 at 11:54 a.m.
Listen to Culture Gabfest No. 9 with Stephen Metcalf, Dana Stevens, and Julia Turner by clicking the arrow on the audio player below: You can also download the program here, or you can subscribe to the weekly Culture Gabfest podcast feed in iTunes by clicking here.
In this week's Culture Gabfest, our critics discuss Vanity Fair's sprawling, dishy takedown of President Clinton, Sex and the City's boffo success in movie theaters, and the earsplitting arrival of mixed martial artist Kimbo Slice on CBS.
Here are links to some of the articles and other items mentioned in the show:
Vanity Fair profiles Bill Clinton, paying particular attention to his post-presidential rat pack and his id.
Clinton responds, officially, in a press release.
Clinton responds, harshly, off the cuff.
Slate's Jack Shafer offers Clinton a lesson in press criticism.
Dana Stevens reviewsSex and the City.
Julia Turner considers the sartorial deficit between the Sex and the City movie and the television show.
CBS' Elite XC mixed martial arts page.
ESPNintroduces Kimbo Slice.
David Plotz defends Ultimate Fighting.
The Culture Gabfest weekly endorsements: