The Culture Gabfest, Monopoly Edition
Listen to Slate's show about the week in culture.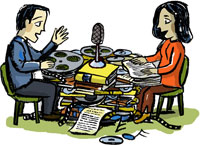 Here are links to some of the articles and other items mentioned in the show:
The Culture Gabfest weekly endorsements:
Julia's pick: Listener Robin Winning's song of the summer, "That's Not My Name" by the Ting Tings.
Dana's pick: Stephen Colbert's green screen challenge: Make John McCain interesting.
Stephen's pick: The greatest song of any summer ever, the Rolling Stones' "Miss You."
Posted by Matt Lieber on July 2 at 6:02 p.m.
June 18, 2008

Listen to Culture Gabfest No. 10 with Dana Stevens, John Swansburg, and Julia Turner by clicking the arrow on the audio player below:
You can also download the program here, or you can subscribe to the weekly Culture Gabfest podcast feed in iTunes by clicking here.
In this week's Culture Gabfest, our critics discuss the unexpected outcome of the R. Kelly trial, the song of the summer (or which hit you'll unexpectedly know all the words to by Labor Day), and the Atlantic's recent story: "Is Google Making Us Stupid?"
Here are links to some of the articles and other items mentioned in the show: