The Culture Gabfest, Monopoly Edition
Listen to Slate's show about the week in culture.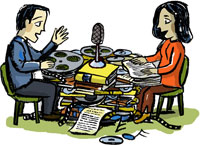 Here are links to some of the items mentioned in this week's episode:
Posted by Andy Bowers on March 12 at 11:55 a.m.
Here's the sophomore outing of our newest audio program, the Culture Gabfest, with critics Stephen Metcalf, Dana Stevens, and Julia Turner. To listen, click the arrow on the audio player below:
You can also download the program here, or you can subscribe to the weekly Gabfest podcast feed in iTunes by clicking here.
In this edition, the panelists discuss the aftermath of the Oscars, the challenge Barack Obama poses for comedians, and Lindsay Lohan's Marilyn Monroe impression. Here are some of the links for items mentioned in the show:
Posted by Andy Bowers on Feb. 28 at 3:07 p.m.