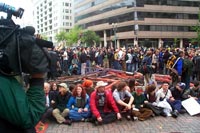 "Affinity groups"--small, independent activist groups--fan out, encircling the cordoned area. They are assigned to particular intersections but are free to disrupt however they choose (as long as they are nonviolent). Most are trying to block cars or buses carrying bank delegates from reaching the meetings. (A legal demonstration began at 11 a.m. at the Ellipse.)
Even at 6:30 a.m., and even in a drizzle, the demonstration soon takes on the spirit of a festival. A human chain blocks every street, alley, and sidewalk with access to the bank. Demonstrators block transit by stringing twine from traffic signal to traffic signal, weaving a spider web across most intersections. Each block feels like its own street theater. By Lafayette Park, a "Caterpillar"--10 people wrapped in green plastic bags and attached by duct tape--blocks H Street. Behind them, the five members of the "Monkey Cluster" are lying on their backs, locked together, their arms encased in PVC pipe. Cops can only move them by sawing through their "lockboxes." "Vegan First," the Monkey Cluster's spokesman, tells me, "We are attacking the root cause of all problems in this world: capitalism." Then he asks me to pull his bandanna down so people can't see his face.
A posse of Brown students--most of them Young Communists or Women for Peace, according to their "media coordinator"--forms an amoeba, their pile of bodies blanketing the intersection of 18th and I Streets. A 30-person lockbox circle holds 21st and Pennsylvania. Rev. Bob, a self-described "fake preacher," entertains them with anti-IMF stand-up comedy. An anarchist soccer game breaks out at 17th and E. Appropriately, there are no teams and no goals, only random kicking. A dozen protesters costumed as trees rove the barricades, a mobile forest. A half-dozen topless women, their nipples covered by anti-World Bank stickers, race from street to street. One woman's chest is painted with the slogan: "The IMF wants the shirt off your back."
A pair of "guerrilla gardeners" scratch away at a scrubby patch of dirt next to the George Washington University student center. One of them, "Be" from Athens, Ohio, is planting pumpkin seeds. A man costumed as a horned "IMF Capitalist Fiend" sneaks up behind Be and shouts: "Don't plant trees, plant concrete!" Be jumps up, startled. Then he laughs and chats cheerfully with the fiend.
A block away, the frat boys of GWU's Delta Tau Delta hang a banner out their window: "American Capitalist and DAMN Proud of It." A woman walking by--a "social welfare fish" chasing an IMF "loan shark"--sees the sign and yells: "American Communist, and DAMN Proud of It!"
Puppets weave their way from intersection to intersection: A 20-foot three-headed cobra--each head representing a sinister international institution--dances near the White House. One group chains itself to an enormous World Bank pig with a globe stuck in its mouth. A Trojan Horse wheels around on a shopping cart. Hidden in its belly is consumer detritus: Hi-C bottles and fast-food wrappers. Everyone wears a slogan: "Rage Against Sweatshops"; "Viva la Revolucion"; "Fuck the IMF"--or carries a banner. My favorites are: "Globalize This"--illustrated by an extended middle finger--and "IMF and World Bank: Loan in Hell."
A thumping soundtrack of drums and chants (and police helicopters) accompanies the protest. "Ain't no power like the power of the people 'cause the power of the people don't stop!" is a favorite cry. When a street gets quiet, someone invariably starts, "More world, less bank."
The cops observe this revelry from behind the barricades, stone-faced. They are outfitted for violence. All of them wear riot gear. Some are full-on Robocops: They resemble giant arthropods, with every body part covered in segmented plastic armor. Occasionally a team of motorcycles buzzes out from behind a barricade. A police SUV rushes up the street, then squeals to a stop before the crowd, prompting a hail of protester hissing.
But despite the blockades, the chanting, the paramilitary policing, something is missing from A16: the World Bank and IMF delegates. Human chains bar a handful delegates from entering. Throughout the morning, rumors fly that "the delegates are loading into vans, so get ready." But they're nowhere to be seen. At around 8:30, it becomes clear why. News reports begin filtering down to the anarchists. The meetings have started. Almost all the delegates are already inside: They arrived by bus and van at 5 a.m., a full hour before the A16 protesters massed.
There is an important lesson here: In a contest between bankers and anarchists over who can get up earlier, never bet on the anarchists.
A16 organizers try to spin their failure to stop the meetings. "Normally, these guys arrive at the bank in chauffeured limousines," says Patrick Reinsborough of Rainforest Action Network. "But this morning, we made it so they had to be taken in by bus, at four in the morning, like a bunch of unruly schoolchildren."