Play the Slate News Quiz
With Jeopardy! superchampion Ken Jennings.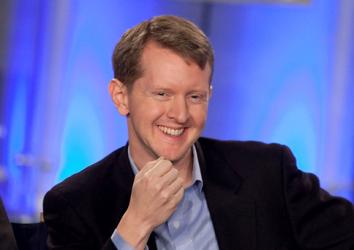 Welcome back to Slate's weekly news quiz. I'm your host, 74-time Jeopardy! winner Ken Jennings.
Every Friday I'll be testing your knowledge with 12 challenging questions on the week's news events, big and small, including happenings in science, sports, politics, and culture both high and low. The questions are multiple-choice, and time is of the essence: You have 30 seconds to answer, and as the seconds tick away, the question's point value drops from 50 all the way down to zero, so you'll want to click on your answer as fast as you possibly can. There's no penalty for an incorrect answer, so feel free to take a guess if your puny human brain fails you.
At the end of the quiz, you'll be able to compare your score with that of the average contestant, as well as to the score of a Slate-ster whom I've talked into taking the quiz on the record. This week's contestant is Bad Astronomy blogger Phil Plait.
Think you can ace my quiz and beat Plait? Good luck!

The Slate Quiz with quizmaster Ken Jennings


Bradley Hardison, of Elizabeth City, North Carolina, had been wanted by police in connection with two break-ins. So last Tuesday, the genius arch-criminal decided to enter a doughnut-eating contest sponsored by the police department. He won—and the subsequent media attention led to his arrest. Fortunately, a high score on the Slate Quiz won't land you in the clink.
Question 1
of 12
On Wednesday, why did U.S. troops land atop Iraq's Mount Sinjar?
Thousands of refugees of the Kurdish sect have been trapped on the mountainside since ISIS jihadists stormed their villages.
Question 2
of 12
A San Diego pharmaceutical company says that it has exhausted its supplies of ZMapp, a new drug used to do what?
The two Ebola-infected American missionaries who were flown back to Atlanta for treatment were both given ZMapp, with promising results.
Question 3
of 12
On Tuesday, Maryam Mirzakhani became the first woman ever to win what?
The Fields Medal is math's highest honor, the discipline's equivalent of a Nobel Prize. The Iranian-born mathematician teaches at Stanford.
Question 4
of 12
This week, residents of Gaza used Twitter to send tips on dealing with tear gas to people living where?
The St. Louis suburb has been rocked by protests and clashes with police since the controversial shooting of the unarmed Michael Brown over the weekend.
Question 5
of 12
Many obituaries for Robin Williams noted that his roommate at Juilliard was which future star, who later credited Williams with saving him from suicidal thoughts during a dark time?
After Reeve was left quadriplegic in 1995, Williams disguised himself as a doctor to visit his friend in the hospital. Reeve said Williams was the first person to make him laugh after the accident.
Question 6
of 12
Last week, researchers at the University of Minnesota were surprised to learn that 8.3 percent of Americans changed what in the latest census?
The 10 million racial switch-ups in the 2010 census suggest that ethnicity is becoming extremely fluid and complex in America, and not well-suited to the check of a box.
Question 7
of 12
Six Swiss swingers on vacation in Ibiza, Spain, had their orgy interrupted by a police officer, who cited them for what infraction?
The orgiasts were enjoying themselves in a moving vehicle, which was a first for Ibiza police. They were not fined for public indecency—just 200 euros for not buckling up.
Question 8
of 12
Beginning this week, art lovers are now able to explore London's famed Tate Britain museum in what unusual way?
Four camera bots controlled remotely by Web users now wander the galleries every night when the museum closes.
Question 9
of 12
President Fouad Massoum has given Haider al-Abadi 30 days to form a new government to lead what?
Prime Minister Nouri al-Maliki announced Thursday that he was stepping down, making way for Abadi, who is backed by both the U.S. and Iran.
Question 10
of 12
A new study from the Stockholm Environment Institute has found that greenhouse gas emissions due to what could be four times greater than government estimates?
The developers of the $5.3-billion Alberta-to-Nebraska pipeline dispute the study, pointing to State Department estimates that its completion will barely affect emissions or demand.
Question 11
of 12
The Brazilian presidential election, set for October, was upended this week by what surprising event?
Eduardo Campos, the socialist candidate, was one of seven killed when his small Cessna jet crashed near Sao Paulo.
Question 12
of 12
Last week, the Daily Mail reported that Russian fisherman Igor Vorozhbitsyn was saved from a bear attack by what lucky break?
The man insisted that his granddaughter had loaded "Baby" onto his phone as a joke. (Suspiciously, I should note, the original Pravda story about the attack doesn't mention Bieber specifically.)

August 15, 2014


Anonymous User
Log in to track your scores!
vs.

Phil Plait
Bad Astronomy blogger
To retake the Mosul Dam from ISIS
To prevent rocket attacks across the Turkish border
To open a camp for refugees fleeing Syria
Administer lethal injections
Reverse the effects of Alzheimer's
Vaccinate against the flu
The Pritzker Architecture Prize
The spelling of their name
Improper use of a Spanish flag
The Palestinian Authority
The Supreme Court ordered the entire nation redistricted
The incumbent entered drug rehab
A challenger died in a plane crash
The pope raised allegations of voter fraud
His animal allergy caused a sneezing fit, scaring the bear
His Justin Bieber ringtone began playing loudly
The bear recognized him from a long-ago circus act
The bear drank a case of vodka from his camp and fell asleep

Average
0 points

You
0 points


Phil Plait
Bad Astronomy blogger
0 points
Answer quickly to earn more points!
Quiz Template by Chris Kirk and Andrew Morgan