Play the Slate News Quiz
With Jeopardy! superchampion Ken Jennings.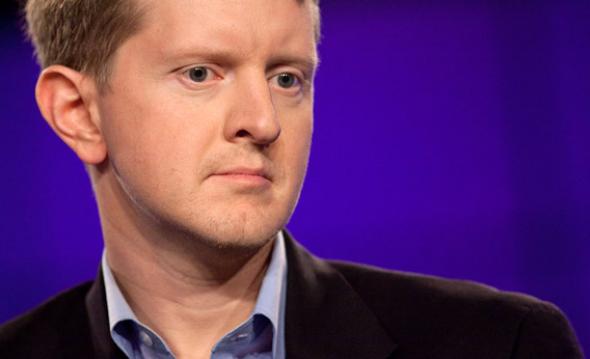 Welcome back to Slate's weekly news quiz. I'm your host, 74-time Jeopardy! winner Ken Jennings.
Every Friday I'll be testing your knowledge with 12 challenging questions on the week's news events, big and small, including happenings in science, sports, politics, and culture both high and low. The questions are multiple choice, and time is of the essence: You have 30 seconds to answer, and as the seconds tick away, the question's point value drops from 50 all the way down to zero, so you'll want to click on your answer as fast as you possibly can. There's no penalty for an incorrect answer, so feel free to take a guess if your puny human brain fails you.
At the end of the quiz, you'll be able to compare your score with that of the average contestant, as well as to the score of a Slate-ster whom I've talked into taking the quiz on the record. This week's contestant is Slate senior editor David Haglund. He runs Brow Beat, Slate's culture blog.
Think you can ace my quiz and beat Haglund? Good luck!
The Slate Quiz with quizmaster Ken Jennings
Welcome back to the Slate News Quiz, your weekly 12-question moment of truth. In honor of Harold Ramis, the great comedy writer-director who passed away this week at the age of 69, I grant you permission to keep taking the quiz over and over, Groundhog Day-style, until you get everything just right.
Question 1
of 12
Gay citizens face life prison sentences and their friends are now legally required to report them to the police, due to a strict new law signed on Monday where?
Question 2
of 12
After a fatal explosion at one of their fracking wells in Pennsylvania, Chevron tried to make amends with local residents by doing what?
Each household also got a coupon for a 2-liter bottle of soda! For some reason, many were irked by the gesture.
Question 3
of 12
The United Arab Emirates has issued a fatwa against what, saying it could "never be justified in Islam"?
The planned Mars One mission is so dangerous, say clerics, that it violates the Quranic admonition, "Do not kill yourselves or one another."
Question 4
of 12
In what country, facing its worst unrest in a decade, did an opposition leader refuse to meet with the government this week, saying, "I'm not going to be like the orchestra on the Titanic"?
"This is a dying government," said Henrique Capriles, refusing to attend the conference with President Nicolas Maduro.
Question 5
of 12
The longest-serving member of the House of Representatives announced on Monday that he will retire after almost 60 years. His district is in the suburbs of what city?
Rep. John Dingell has been a Michigan congressman since the Eisenhower administration, but he finds today's House to be "obnoxious," he told reporters.
Question 6
of 12
Last Saturday, who boarded a helicopter and fled a lavish $100 million mansion, headed for parts unknown?
His 350-acre estate outside Kiev, called Mezhyhirya, includes little perks like a private zoo, gold-plated golf clubs, and a full-scale replica of a Spanish galleon.
Question 7
of 12
A new campaign is trying to collect 100,000 signatures this month to persuade Congress to make what spring observance a federal holiday?
Budweiser is backing the petition, pointing out that thousands of Americans already skip work every spring for opening day.
Question 8
of 12
Many were surprised by new government data this week showing that what has dropped 43 percent in young children during the past decade?
Question 9
of 12
While walking their dog, a couple in northern California has made what $10 million discovery, thought to be the largest in U.S. history?
No one knows where the 1,400 coins in the "Saddle Ridge Hoard" may have come from.
Question 10
of 12
Concert pianist Alice Herz-Sommer died in London on Sunday. At age 110, she was the oldest known survivor of what?
Question 11
of 12
A new study in the journal Nature revealed that Yellowstone National Park is losing about 60 tons of what every year?
The gas, which is escaping from the Earth's crust through geysers and hot springs, is enough to fill the Goodyear blimp every week.
Question 12
of 12
Florida law forced a judge to return to John Wayne Rogers the gun he used in 2012 to kill his best friend. Why was Rogers an unusual defendant?
Rogers was accused of first-degree murder but was granted immunity under Florida's "stand your ground" law.
February 28, 2014
Anonymous User
Log in to track your scores!
vs.

David Haglund
Slate senior editor
Promising not to sue the town
Sending a costumed mascot door to door to apologize
Staging a "Fracking Fireworks!" show this July 4
Mexican drug lord Joaquin Guzman
Ukrainian president Viktor Yanukovych
Romanian hacker "Guccifer"
Thai prime minister Yingluck Shinawatra
The Gone with the Wind cast
The San Francisco earthquake
He is on the state Supreme Court
He is currently incarcerated
Average
0 points
You
0 points

David Haglund
Slate senior editor
0 points
Answer quickly to earn more points!
Quiz Template by Chris Kirk and Andrew Morgan