Play the Slate News Quiz
With Jeopardy! superchampion Ken Jennings.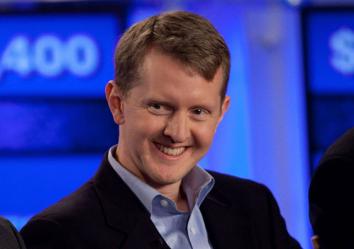 Every Friday I'll be testing your knowledge with 12 challenging questions on the week's news events, big and small, including happenings in science, sports, politics, and culture both high and low. The questions are multiple-choice, and time is of the essence: You have 30 seconds to answer, and as the seconds tick away, the question's point value drops from 50 all the way down to zero, so you'll want to click on your answer as fast as you possibly can. There's no penalty for an incorrect answer, so feel free to take a guess if your puny human brain fails you.
At the end of the quiz, you'll be able to compare your score with that of the average contestant, as well as to the score of a Slate-ster whom I've talked into taking the quiz on the record. This week's contestant is Slate's writer at large, Troy Patterson, who writes the Gentleman Scholar column.
Think you can ace my quiz and beat Patterson? Good luck!
This is Banned Books Week in the United States, but Fifty Shades of Grey and Captain Underpants books aren't the only things getting banned. The French parliament voted to ban child beauty pageants. The U.S. Army banned soldiers from getting visible tattoos. A zoo resort in Britain even banned visitors from wearing clothing with giraffe, zebra, or leopard prints, which it says confuses the animals. Despite all these crackdowns, I hope you enjoy the latest Slate News Quiz (available where permitted by law).
Question 1
of 12
Iranian president Hassan Rouhani, attending the opening of the U.N. General Assembly this week, was successfully able to avoid what?
Iranian officials told the White House that even a handshake with Obama would have been politically "complicated" for a new president dealing with conservative elements back home.
Question 2
of 12
Tuesday's 7.7-magnitude earthquake in southwestern Pakistan was so powerful that it actually did what?
The narrow mud-and-stone island, 250 feet long and about the width of a tennis court, appeared off the port city of Gwadar.
Question 3
of 12
Swedish food scientists confirmed this week that castoreum is sometimes used as vanilla flavoring in commercial baked goods. Unfortunately, where does castoreum come from?
Castoreum can be disguised as a "natural flavoring" on American product labels.
Question 4
of 12
On Tuesday, a second county voted to secede and join Jefferson, a proposed new U.S. state on the border of which two existing states?
Question 5
of 12
Xiaolian, a 22-year-old man in Fuzhou City, China, is receiving much Internet attention for having what growing on his forehead?
The patient lost his nose to an infection, and surgeons decide his forehead was the best place to construct the new nose before transplanting it to the usual spot.
Question 6
of 12
The Obama administration proposed strict new regulations last Friday to cut what in half?
The controversial new EPA rules would only apply to newly built coal plants.
Question 7
of 12
Al-Shabab, which claimed responsibility for the mall attack in Kenya, is a militant group based in which other nation?
Question 8
of 12
According to writer Eric Schlosser's new book, what very nearly happened in Goldsboro, N.C., in late January 1961?
According to a newly uncovered report, three of the four mechanical safeguards failed on one of the bombs that was accidentally dropped by a B-52 when it crashed.
Question 9
of 12
Ted Cruz gave an epic 21-hour speech on the floor of the Senate in an attempt to rally support and attention for what?
Question 10
of 12
According to a surprising new Pew study, 15 percent of Americans literally never do what?
Some of the Internet-free would like to get online and don't know how, but fully a third of them say they just aren't interested.
Question 11
of 12
Whose party won re-election this week with their nation's biggest margin of victory in 23 years?
Question 12
of 12
Two cars on Chicago's Lake Shore Drive early Sunday morning got in an unusual hit-and-run accident when both collided with what?
The small plane's pilot made an emergency landing on the expressway after suffering a mechanical failure over downtown Chicago. The two cars drove off, and no injuries were reported.
You got 8 out of 12 answers correct in 20 minutes 30 seconds.
Answer quickly to earn more points!
September 27, 2013
Anonymous User
Log in to track your scores!
vs.

Troy Patterson
Slate's writer at large
A meeting with President Obama
A vote on action in Syria
Two speeches by Israeli delegates
Made rivers flow backward
Drowned a surfer in Australia
Made the day 2.3 microseconds shorter
The anal glands of beavers
Virginia and West Virginia
Carbon emissions from power plants
Emergency room waiting times
The number of federal websites
A successful private space launch
The assassination of Martin Luther King Jr.
A secret Kennedy-Castro summit
A hydrogen bomb explosion
Average
0 points
You
0 points

Troy Patterson
Slate's writer at large
0 points
Recent Quizzes
Loading your quiz history...
←
→
Quiz Template by Chris Kirk and Andrew Morgan