Play the Slate News Quiz
With Jeopardy! superchampion Ken Jennings.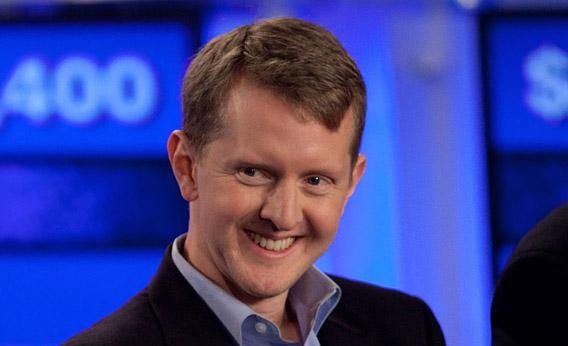 Welcome back to Slate's weekly news quiz. I'm your host, 74-time Jeopardy! winner Ken Jennings.
Every Friday I'll be testing your knowledge with 12 challenging questions on the week's news events, big and small, including happenings in science, sports, politics, and culture both high and low. The questions are multiple-choice, and time is of the essence: You have 30 seconds to answer, and as the seconds tick away, the question's point value drops from 50 all the way down to zero, so you'll want to click on your answer as fast as you possibly can. There's no penalty for an incorrect answer, so feel free to take a guess if your puny human brain fails you.
At the end of the quiz, you'll be able to compare your score with that of the average contestant, as well as to the score of a Slate staffer whom I've talked into taking the quiz on the record. This week's contestant is Slate staff writer and Future Tense blogger Will Oremus.
Think you can ace my quiz and beat Oremus? Good luck!
It was a banner week for all-time highs. The Dow Jones industrial average closed above 15,000 for the first time. The National Rifle Association boasted that its membership cracked the 5 million mark. And the spire on New York's "Freedom Tower" makes it the nation's new tallest skyscraper. What about you—is this your week for an all-time-high score on the Slate News Quiz?
Question 1
of 12
Two Israeli airstrikes last week launched missiles at the outskirts of what city?
The attacks, which apparently targeted weapons being transferred to Hezbollah, were called a "declaration of war" by Syria.
Question 2
of 12
James McCormick was sentenced in London last week to serve 10 years in prison for fraud. Hundreds of Iraqis died using his fake "explosive detectors," which were actually what?
Question 3
of 12
Which of these events in this week's headlines took place while the newsmaker was clutching a half-eaten Big Mac?
McDonald's plans to "reach out" to the Cleveland man, evidently a fan of its fine products.
Question 4
of 12
In the wake of the April 15 Boston Marathon bombing, the city manager of Cambridge, Mass., announced Monday that what would not be allowed within city limits?
Tsarnaev's body was buried in an undisclosed spot outside Massachusetts on Thursday, putting an end to a week of controversy.
Question 5
of 12
New Zealand last week added "Lucifer," "Anal," and "4Real" to its list of banned what?
Confusingly, the nation once allowed a baby to be named "Number 16 Bus Shelter," as well as a pair of twins to be named "Benson" and "Hedges."
Question 6
of 12
What was returned to Mongolia with great fanfare on Monday, a year after it was illegally sold at auction by a Gainesville, Fla., man?
Eric Prokopi has pleaded guilty to smuggling the 70 million-year-old fossils out of the Gobi Desert.
Question 7
of 12
"It is not a laughing matter," the Nuclear Regulatory Commission said Friday, after a pair of what were found in a Perry, Ohio, nuclear plant?
The fish, which were found swimming in a lemonade pitcher inside a secure steam tunnel, have since died.
Question 8
of 12
In the past week, what has happened in both of America's two tiniest states?
Rhode Island and Delaware became the 10th and 11th states to allow same-sex marriage.
Question 9
of 12
Which of these victories was won this week by someone who had controversially called themselves a "wounded warrior" back in January?
"Wounded warrior" Mark Sanford completed his political comeback with a 9-point defeat of Elizabeth Colbert Busch.
Question 10
of 12
A Michigan parent named Gail Horalek has filed a formal complaint against her daughter's school district for not censoring what?
Horalek called the passage from The Diary of Anne Frank "pornographic."
Question 11
of 12
The Senate passed a bill Monday allowing states to levy what kind of taxes?
The bill brings shoppers one step closer to having to pay sales tax on online purchases.
Question 12
of 12
Vancouver-founded Jones Soda announced last Friday that it will bottle a limited-time-only soda for Canadians—in what flavor?
Poutine is a Quebecois staple made by smothering French fries in cheese curds and gravy.
You got 8 out of 12 answers correct in 20 minutes 30 seconds.
Answer quickly to earn more points!
May 10, 2013
Anonymous User
Log in to track your scores!
vs.
Will Oremus
Slate's Future Tense blogger
Novelty golf ball finders
Charles Ramsey's discovery of the Cleveland kidnap victims
David Cameron's "Queen's Speech" to open Parliament
Chris Christie's lap-band surgery
The sale of pressure cookers
Westboro Baptist Church protesters
The burial of Tamerlan Tsarnaev
Personalized license plates
The world's largest black opal
A hashish pipe that belonged to Genghis Khan
Employees dressed as zombies
Gay marriage was legalized
Official state cartoon characters were named
Gabby Giffords winning the Profile in Courage award
LeBron James winning his fourth NBA MVP
Mark Sanford winning his race for Congress
Orb winning the Kentucky Derby
A bulletin board about AIDS in Africa
A Cole Porter song in the school play
A description of Anne Frank's genitals
Average
0 points
You
0 points
Will Oremus
Slate's Future Tense blogger
0 points
Recent Quizzes
Loading your quiz history...
←
→
Quiz Template by Chris Kirk and Andrew Morgan