Play the Slate News Quiz
With Jeopardy! superchampion Ken Jennings.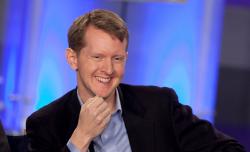 Welcome back to Slate's weekly news quiz. I'm your host, 74-time Jeopardy! winner Ken Jennings.
Every Friday I'll be testing your knowledge with 12 challenging questions on the week's news events, big and small, including happenings in science, sports, politics, and culture both high and low. The questions are multiple-choice, and time is of the essence: You have 30 seconds to answer, and as the seconds tick away, the question's point value drops from 50 all the way down to zero, so you'll want to click on your answer as fast as you possibly can. There's no penalty for an incorrect answer, so feel free to take a guess if your puny human brain fails you.
At the end of the quiz, you'll be able to compare your score with that of the average contestant, as well as to the score of a Slate staffer whom I've talked into taking the quiz on the record. This week's contestant is Torie Bosch, the editor of Future Tense.
Think you can ace my quiz and beat Bosch? Good luck!


Maybe things are looking up. Almost all of the historic manuscripts from the library burned last week by Islamist rebels in Timbuktu, Mali, were, it turns out, saved by sneaky librarians. The city of Paris officially repealed an obscure 200-year-old law forbidding women from wearing pants. And Ron Jeremy is on the mend! I hope there's more good news in store for you when you get your score on this week's Slate News Quiz.
Question 1
of 12
Last Friday, the Telegraph and Times were among the first media outlets to question the legitimacy of a photo of "Pishgam." What is Pishgam?
Pishgam (Farsi for "pioneer") looked very different in the before and after shots of his alleged space launch, a discrepancy that Iran suggested was caused by the use of archival photos.
Question 2
of 12
The Obama administration's drone program has been confirmed to have hit targets in three different countries. Which of these countries has not been targeted?
Question 3
of 12
Dolce & Gabbana raised eyebrows this week with an ad campaign for their new $45-a-bottle fragrance aimed especially at what customers?
Stefano Gabbana says the scent was inspired by "baby skin" and "the freshness of baby breath," ... which babies, um, probably smell like already.
Question 4
of 12
A new report says that what Japanese industry would collapse without government subsidies, as over 5 million kilograms of unsold product are currently sitting in warehouses?
According to the report from the International Fund for Animal Welfare, 2.28 billion yen of tsunami relief was siphoned off last year to support whaling.
Question 5
of 12
What lasted a surprising 34 minutes at Sunday's Super Bowl?
Question 6
of 12
On Monday, who freed a 5-year-old Alabama boy from the underground bunker of kidnapper Jimmy Lee Dykes?
Question 7
of 12
Great Britain is considering a new ad campaign in Eastern Europe to educate Romanians about the downsides of what?
The British government hopes such a campaign might discourage further Romanian immigration across the English Channel by emphasizing Britain's sluggish economy.
Question 8
of 12
The White House announced that in March President Obama will travel to what country, which he was criticized for never visiting during his first term?
Question 9
of 12
According to the Moscow Times, Vladimir Putin has resorted to what desperate measure to raise Russia's sinking birth rate?
Boyz II Men are being brought in to reprise their smooth '90s sounds at a concert that will hopefully "give Russian men some inspiration ahead of Valentine's Day."
Question 10
of 12
Which of these Republicans did not make a statement in the past week taking himself out of the race for John Kerry's Massachusetts Senate seat?
Winslow, a state representative, has formed an exploratory committee to consider a run, making him the only Republican so far to do so.
Question 11
of 12
On Tuesday, who voted to legalize gay marriage in the United Kingdom?
The bill was passed by a wide margin, and Prime Minister David Cameron plans to have it enacted by the end of the summer.
Question 12
of 12
On Tuesday, while visiting Cairo, Mahmoud Ahmadinejad suffered a repeat of what embarrassing incident that befell George W. Bush in Baghdad in 2008?
A Syrian man in the crowd threw his shoe at Ahmadinejad for his support of Bashar al-Assad's regime. Bush ducked a similar attack in Iraq almost five years ago.
You got 8 out of 12 answers correct in 20 minutes 30 seconds.
Answer quickly to earn more points!
February 8, 2013
Anonymous User
Log in to track your scores!
vs.

Torie Bosch
editor of Future Tense
Barack Obama's skeet rifle
An endangered Russian tiger
Baltimore's time of possession
Bar Refaeli kissing that GoDaddy nerd
FBI Hostage Rescue agents
Importing families from Kazakhstan
A nationwide free-diaper giveaway
Auctioning off his own sperm
Planning a sexy Boyz II Men concert
The exhumed body of King Richard III
A "Mission Accomplished" banner
Average
0 points
You
0 points

Torie Bosch
editor of Future Tense
0 points
Recent Quizzes
Loading your quiz history...
←
→
Quiz Template by Chris Kirk and Andrew Morgan