Hot Potato
Republicans can't drop Larry Craig fast enough.

When Slate first proposed a Mitt Romney Look-Alike Contest, we expected a handful of entries converging around the usual suspects like Wink Martindale. Instead, scores of readers entered—and judging from the entries, Romney has even more alter egos than he has had positions on abortion.
For many readers, Romney is like Fred Thompson—a familiar, if somewhat ridiculous, figure from network TV. Reader Sharon Kelly sent photos of Romney as Henry Winkler. Howard Zilbert and Wade Williams think he's Carol Burnett sidekick Lyle Waggoner. Matt Bauer and EA Dyson manage to see Matthew Fox, who plays Jack on ABC's Lost. Mark Johnson reaches back into the archives to see Tony Franciosa, who starred in Fame Is the Name of the Game. To Chris Mishler and Timothy Carroll, he's Ted Danson—which is all the more remarkable when you try to imagine Mitt Romney in a bar where everybody knows your name.
Other entries show Romney's extraordinary range. Several readers saw an anchorman, but never the same one: Ron Burgundy, Brit Hume, Tony Snow. Others saw diverse figures from science fiction, like  Data from Star Trek and Michael Rennie, who played Klaatu in The Day the Earth Stood Still.
In fact, Romney is becoming synonymous with double vision. One reader couldn't decide whether Romney looked like Laura Bush or "an ad for men's hair coloring." A few saw a president: Richard Nixon in his final days or  Bill Pullman in Independence Day. One man's Lucifer (no image available) was another man's Charlton Heston.
But the two most common categories of entries were perhaps the most insightful: pitchmen and puppets. Kevin Miller sees the lying car salesman Joe Isuzu. Michael Stewart thinks Romney looks like Count Chocula. Sandy Fabian was unfair to suggest Rudolf Hess but came closer with the Brawny Paper Towel guy.
The most impressive entry comes from Laura (presumably not Bush), who took the trouble to showcase Romney as the 1970 Talking Ken doll, which was sold with a strikingly Romney-esque marketing slogan, " I Say Many Different Things!"
In terms of sheer physical resemblance, however, the edge goes to the puppets. The runner-up is Kerry Joyce, who likens Romney to Jeff Tracy, star of the 1960s British remote-control marionette show, The Thunderbirds. The BBC cult page describes Tracy the way many on the right would describe Romney, as " the ultimate puppet superhero."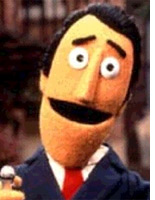 First prize goes to four readers, who will take turns sharing a copy of L. Ron Hubbard's Battlefield Earth. Matthew Williams, Lars Thomas, fellswoop13, and madeiros33 looked at Romney and saw the same iconic figure: Guy Smiley of Sesame Street. As a puppet and "everybody's favorite game show host," Smiley is Mitt Romney. It takes more than a pretty face to look like Mitt. It takes a pretty face that's flexible and easily manipulated. ... 6:35 P.M. (link)
The Mitt Who Mistook His Wife for a Hat: Two weeks ago, Mitt Romney was surging toward the Republican nomination, pulling into the lead in two polls in Iowa and three in New Hampshire. Then, the man couldn't recognize Ralph Reed at his own fund-raiser. In the latest American Research Group poll, Romney is second behind McCain in New Hampshire and third behind McCain and Giuliani in Iowa. Perhaps voters are sending Romney a message: We thought you were someone else.